Are you fed up with your blender? Are high-end blenders worth the price tag? We wrote this review to help you answer questions like these, and determine if the Blendtec Total Classic Blender is right for you. Below you'll find my research and personal experience using the Blendtec Classic Total Blender, an appliance I've come to love!
For years I got by just fine with my Oster Beehive blender, but as someone who makes smoothies every day and spends a fair amount of time in the kitchen, I realized it was time to upgrade to a top of the line blender for all the reasons below.
After researching the Blendtec (and Vitamix among other blenders) extensively and speaking with friends and family members who owned one, I knew the Blendtec Classic Total Blender was right for me. One question lingered after my purchase, why did I wait so long?
What the Blendtec Total Classic Blender will do for you
The more appropriate question might be, what won't it do? With your Blendtec Total Classic Blender, you can make the perfect smoothie. Whether that's the ever-popular green smoothie, one containing ice cubes, seeds, or nuts, you'll get a thick, creamy consistency without any chunks every time. Lower end blenders, like the Oster, can't replicate the creaminess or blend as thoroughly. There's even a handy Smoothie button making the entire process a breeze.
In my opinion, this is the best blender for making smoothies, but that's just the beginning of what you can create with your Blendtec. You can also make juices, dressings, soups, nut milk and nut butter, yogurt, sauces, spreads, marinades, salsas, batters, dips, and more. You can even grind up grains and make your own homemade baby food purees! With your Blendtec Total Classic Blender purchase, you'll also receive a beautiful 213-page recipe book chock-full of recipes for making the various things I just listed.
The Differentiating Feature
One thing stood out when talking to others who love their Blendtec, a feature which I've grown to love as well, preprogrammed blending cycles. In other words, there are buttons on the Blendtec touchpad for your various blending needs, like the Smoothie button I mentioned above.
These buttons include Ice Cream/Frozen Yogurt, Ice Crush/Milkshake, Soups/Syrups/Fondues, Sauces/Dips/Dressings/Batters, Whole Juice, and Smoothie.
Simply press a blending button and sit back and watch the Blendtec do it's thing, it will shut off automatically when finished. These automatic blend cycles ensure the desired consistency and texture is achieved. Nobody is going to remember exactly how long and at what speeds they blend everything – the blending buttons remove any guesswork.
You can also blend manually using the speed up and speed down buttons (10 speeds available) and the pulse button. Below the buttons is a little LCD screen indicating how long your automatic blend has left, or how long you've been blending if doing so manually. It also keeps track of your total number of blends. This is truly a "smart" blender :)
Other Noteworthy Features
Plastic Jar: The blender jar (BPA-free) is square with a volume of 2 quarts, and has a nice secure-fitting lid. This design helps to move food around and force it down to blade-level which means your smoothie (or whatever it is that you are making) will blend evenly. The jar is lightweight, easy to pour and get food out of, and has handy measurements (cups and ounces) along the side. No need to worry about breaking your glass jar. 3-quart jars are now available if you need more volume.
Power: The Blendtec has a commercial-quality 1,560-watt, 3 HP (Peak Horsepower) direct-drive motor and a 2-prong stainless-steel blade that spins at up to 29,000 rpm. In English, this baby is one powerful machine capable of blending just about anything.
Maximum Nutrition: Unlock every ounce of nutrition in fruits in vegetables with Blendtec's ability to thoroughly break down cell walls. This is especially important when blending greens such as kale, spinach, and chard.
Sleek & Modern Design: Measuring in at 7 by 8 by 15.5 inches, the Blendtec Total Blender fits nicely on most kitchen countertops and is not an eyesore. It's available in both white and black.
Lifetime Warranty: Blendtec has a lifetime warranty on the blade; so you'll never have to worry about it getting dull, a 3-year warranty on the motor-base, and a 1-year warranty on the jar.
Easy to Clean: Cleanup is a breeze, simply add some warm water, a little soap, and press the Pulse button for a few seconds. Then rinse, and you're done!
Free Recipe Book: With your Blendtec purchase you get a beautiful 213-page recipe book, instructional DVD with 16 recipe videos, owner's manual, and user guide.
Customer Support: I've called customer support twice and had excellent dealings both times. One call was regarding a damaged jar, which was quickly replaced. Blendtec stands behind its product.
Blendtec Designer Series
My review is based on the Blendtec Total Classic Blender, which I own and love. They also have a Designer Series for the more sophisticated :)

A few highlights and differentiating factors of the Blendtec Designer Series:
New and improved user interface making it easier to use and clean. The icons are back-lit and disappear completely when not in use, leaving a beautiful, clean appearance.
Sleek, stylish design, so your blender isn't an eyesore on your counter, but rather a gorgeous piece to add to your kitchen.
Optimized airflow that keeps things cool and extends the life of your blender.
How Much Should You Expect To Pay
The Blendtec Total Classic Blender is currently available for $259.99. That's the lowest price ever and includes free shipping with Amazon Prime! Click here to take advantage of this awesome offer while it lasts.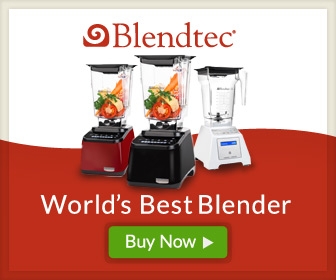 On Amazon Blendtec is currently offering Free Shipping on all of their products if you have Amazon Prime. If you are interested Blendtec also has a 3 Payment Plan on their website for those who don't want to swallow the full cost of a blender upfront.
The Designer Series is slightly more expensive than the Classic Total Blender. It's really a personal preference as to which model you like best. Rest assured, both have equal blending power and will make the best smoothies ever!
Prices may fluctuate, but as of February 2021, when we wrote this review, the Total Classic Blender Classic 575 is $255.02.
The Designer Series starts at $499.99 and is only available through Blendtec.
Note, most Blendtec's now come with their new WildSide Jar. I have both the original and WildSide Jar and really like the larger WildSide Jar.
One other thing I want to point out, Blendtec's are less expensive than the Vitamix.
What Others Are Saying
Blendtec's have received great reviews across the internet and an average of 4.5 stars from over 900 reviewers on Amazon. The reviews on Blendtec's own website are equally glowing.
Here are some of the comments to date:
"I make a quart of green smoothies every morning and this blender is great for that."

"This is the most amazing tool for my kitchen. Flour from wheat grains in two minutes!! Try tossing a few tomatoes,a stalk of celery, half an onion, and whatever else you like with a little coconut milk, whip it up for a minute and you have a hot cream of tomato soup not to be believed. I use it 4 or 5 times a day, have retired my stick blender and juicer as this does the job better and faster."

"I enjoy this every day, no matter what I put in it, it chews it up and makes some tasty treats…"

"This blender is worth every penny and one of the best investments I have ever made."

"If you're serious about getting a real blender, it comes down to Blendtec and Vita-Mix. I don't think you can go wrong with either of these "real" blenders. All the others are fine, I guess. I'd been making do with a classic Waring and a cheap new thing that promised to circulate the contents in some kind of wave motion. Whatever. They both made enough noise to drown out a helicopter landing on my roof, and I seriously feared they'd fly apart and I'd die from shrapnel wounds. And they were such a pain to clean that I regretted pulling them out of the cupboard in the first place. I needed something better, and man, did I find it!

I chose the Blendtec for the following reasons:
-it's smaller
-no knobs or crevices to clean or gum up
-square pitcher pours better
-3 HP motor (!)
-excellent design and choice of materials
-Vita-Mix is incredibly ugly — I wonder if that was on purpose or just some unfortunate accident?
-relatively quiet — if you want to hear loud, come over and I'll dig out my old blenders and make you a smoothie
-Extremely easy to clean

Yes, I love it and haven't found anything about it I'd change."
Any Complaints?
The most common complaint I've heard is that it's too loud. In our opinion, this could be said for just about every blender. The Blendtec is definitely quieter than the Oster, and only slightly louder than our food processor. We don't cover our ears or leave the room when blending, although both are an option if your ears are sensitive.
Another minor complaint is that the jar scratches easily. This is true if you don't follow the owner's manual and use abrasive cleaning pads and sponges. Stick to cloth and paper towel and don't worry about it.
Another potential complaint or con is the lack of a tamper to move the ingredients around should they get stuck when blending. We've had this happen once or twice. To alleviate, simply pick up the jar and shake it a couple of times, then continue blending. No biggie.
Where Can You Buy the Blendtec Total Blender?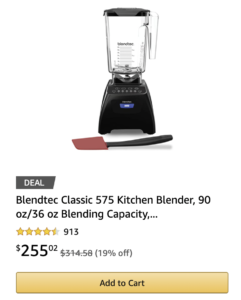 We, of course, recommend buying the Blendtec Total Classic Blender at Amazon. It's rare for online shoppers to not have an Amazon Prime account these days. Which makes the website very easy to purchase from. We are including the links to each Blendtec blender below.
Remember if you purchase by using these links we may earn a small commission that helps support this website so we can keep bringing you high-quality smoothie content. 
The Blendtec website also offers a 3 Payment Plan for those who don't want to swallow the full cost of a blender upfront.
Click here to Buy the Total Blendtec Classic
Click here to Buy the Designer Series
Where Can You Read More About the Blendtec Total Blender?
The best place for reviews from people who have actually used a Blendtec is Amazon. Click here to read more.
Thanks for reading my review. Happy Blending!
-Healthy Smoothie HQ Team
P.S. Feel free to drop me a line if you have questions or to share your experience with the Blendtec Total Blender.