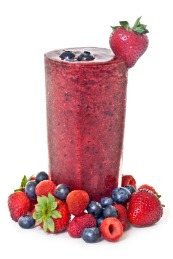 If you are brand new to smoothies, an experienced blender, and/or passionate about health and nutrition, you have come to the right place.
We created this site in 2011 to share everything we have learned and continue to learn about health and nutrition. Information that has helped us transform our health. (Read more about us here.)
What you will find at Healthy Smoothie HQ
Over 200 delicious and nutritious smoothie recipes, articles on addressing specific health issues, and detailed profiles of our favorite group of foods, superfoods. This site, and our free email newsletter, have expanded beyond smoothie recipes to include information on a number of things that contribute to good health such as sleep, exercise, and the importance of getting your fats right.
What is so special about our smoothie recipes?
Every one of them is truly healthy! The popularity of smoothies is fantastic. They are a great vehicle to get a lot of nutrition in a quick, easy to make, and easy to consume, drink. However, there are a number of recipes out there that are not only unhealthy but detrimental to your health. Unhealthy smoothies that are loaded with sugar, which I like to call sugar-bombs, and smoothies that call for all sorts of unhealthy ingredients. For more information on what makes a smoothie unhealthy, check out my article:
We only publish and promote healthy smoothie recipes, hence the name of the site :) Here are two "healthy" articles we wrote that may be of interest:
Read how others have benefited from my recipes and information:
Key Resources on Healthy Smoothie HQ
You can also use the search box located at the top of the page to find what you are looking for.
Happy Blending!
-Healthy Smoothie HQ Team