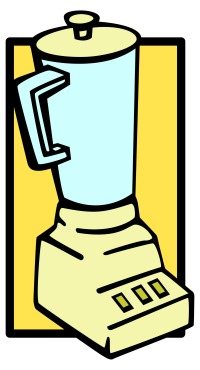 You don't have to read this entire post to find out what the best blender for making smoothies is. Here's the answer. The best blender for making smoothies is the one that you're happy with. It's that simple. Find a blender that you like and will use on a regular basis.
In an earlier post I covered 21 reasons to consume healthy smoothies. It would sadden me to know you that weren't experiencing all the wonderful benefits of healthy smoothies simply because you can't find the right blender.
Despite what many gurus might say, you don't need a $400 – $500 blender to make smoothies. Let me repeat that, you don't need a super expensive blender to make the healthiest smoothies ever! You don't need a BMW to drive down the road, do you?
I've been blending away with a $60 Oster Classic Beehive Blender for over 5 years, and I've only had one problem. The jar cracked after accidentally being dropped into the sink. Human error, not a fault of the blender. For more information, read my Oster Beehive blender review.
To be fair, if you like extremely thick smoothies you may need to add a little more liquid if you're not using a high powered blender such as a Vitamix or Blendtec. This has yet to be a problem for me.
There are many blenders under $100 that will get the job done. You may even be able to find a good one for under $25 at a garage sale or thrift store.
A few things to consider when selecting a blender
It's a good idea to do some research before purchasing a blender, after all, you want to be happy with your blender and enjoy making smoothies. Here are a few things to consider when blender shopping.
Volume or capacity of the blender container. How many servings would you like to make at a time?
Smoothie consistency. As I eluded to above, if you like a super thick smoothie consistency, you'll need to consider buying a fairly powerful blender.
Blender speeds. Do you want the option of selecting from multiple blend speeds? If so, will the ability to vary the speeds manually suffice, or do you want the blender to be pre-programmable?
Cleanup. Check into how easy it is to clean the blender. Some are easier than others.
Noise. Every blender is noisy, but some are really loud.
Blender manufacturer. Buying a blender from a reputable company is always a good idea.
Additional functions. Some blenders offer much more than smoothie making capabilities. Would you like to make soups, salad dressings, ice cream, etc?
When making an important purchase I usually ask friends and family for advice. See what type of blender they have and what they like and dislike about it. Additionally, hop on over to amazon.com and read the reviews for the various blenders they offer.
Another option is bullet blenders and hand held or immersion blenders. These are very convenient, easy to use, and cut down on prep and clean up time.
At some point I'll probably shell out the money and upgrade to a Vitamix or Blendtec blender, but for now I'm perfectly content with my Oster.
Remember, consuming healthy smoothies on a regular basis is what's really important, not the blender on your counter top.
What kind of blender do you have? What do you like and dislike about it?
Update: After much deliberation I purchased a Blendtec Total Blender. To be honest, it's absolutely awesome! Is a Blendtec Total Blender right for you? Read my Blendtec review and find out.