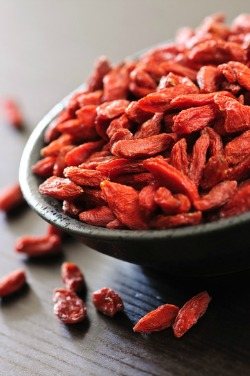 The goji berry is an excellent superfood to add to your next smoothie. Not only do they provide you with protein, trace minerals, and an assortment of other nutrients, they taste great!
The mild, tangy flavor of these small, pink berries will add an interesting taste of sweet and sour to your next smoothie. Don't stop at smoothies, though. You can eat these berries plain as a snack, in a trail mix, on your oatmeal, on a green salad, or in a tea.
Goji berries are also known as wolfberries. The berry is reddish pink and grows on an evergreen shrub that is native to Asia and southeastern Europe. The plant, called Lycium barbarum, is in the nightshade family which also includes tomatoes, potatoes, eggplant, and chili peppers. The berries are usually sold and consumed dried.