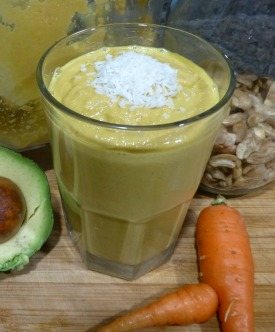 All you carrot cake lovers have to try this smoothie. Anyone who doesn't like carrot cake should try it too :)
Do you ever feel guilty eating dessert? I certainly do, and my sweet tooth still gets the best of me from time to time. Ditch the guilt and indulge yourself with this treat of a smoothie that's healthy and nutritious.
Sharing recipes and variations of recipes with others is great fun. The idea and inspiration for this recipe was from fellow smoothie enthusiast, Niko. When you're enjoying this recipe be sure thank her :)
The star ingredient of this smoothie is obviously carrot, which imparts these wonderful health benefits.