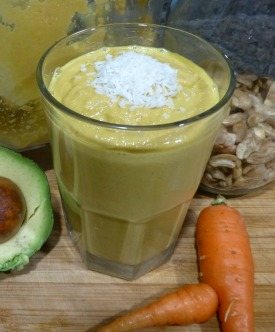 All you carrot cake lovers have to try this smoothie. Anyone who doesn't like carrot cake should try it too :)
Do you ever feel guilty eating dessert? I certainly do, and my sweet tooth still gets the best of me from time to time. Ditch the guilt and indulge yourself with this treat of a smoothie that's healthy and nutritious.
Sharing recipes and variations of recipes with others is great fun. The idea and inspiration for this recipe was from fellow smoothie enthusiast, Niko. When you're enjoying this recipe be sure thank her :)
The star ingredient of this smoothie is obviously carrot, which imparts these wonderful health benefits.
Supports a healthy cardiovascular system
Antioxidant rich
Anti-Cancerous
Great for your vision (thanks to the beta-carotene, which is converted into vitamin A in the liver)
Nutrient profile supports healthy skin, slows down the aging of cells, and helps user toxins out of the body
Carrots combined with all the other ingredients in this smoothie make it one healthy dude.
The original recipe called for 1/2 banana. I substituted avocado because I was fresh out of bananas and am partial to avocado. If you use banana you might want to add a few ice cubes to thicken and a little less honey if you don't like overly sweet smoothies.
My Blendtec pulverized the chopped carrot pretty well. There were a few small pieces to chew, which I actually liked. Enjoy!
Carrot Cake Smoothie Recipe
The Ingredients
1 cup water
1 cup carrots, washed and chopped (or grated if your blender is not that powerful)
1/2 medium avocado
1/4 cup cashews (soaked and dehydrated)
1 teaspoon coconut oil
Juice of 1/4 lemon
1/4 inch ginger, peeled and minced or 1/2 teaspoon powdered ginger
1/2 teaspoon cinnamon
1/4 teaspoon ground nutmeg
1 tablespoon honey to sweeten
The Add-ons
Garnish with coconut shreds
1/4 teaspoon ground cloves
1/2 cup pineapple
1/2 teaspoon vanilla powder or extract
1 serving vanilla protein powder
Show Time
Place all the ingredients into your high-speed blender and blend for around 30-45 seconds or until nice and smooth. If you add coconut oil and don't have a very powerful blender you might want to blend everything except the coconut oil first, then drizzle it on and blend for another 5-10 seconds to avoid clumping.
This smoothie is pretty rich; so you might want to share it with someone or save some for later :)
Nutrition Information
Calories: 485
Fat: 32g
Protein: 9g
Carbohydrates: 50g
Fiber: 12g
Sugar: 25g
Vitamin A: 72% RDA
Vitamin C: 49% RDA
Calcium: 9% RDA
Iron: 18% RDA
Niko and I would love to know if you try this carrot cake smoothie – please leave a comment below. Happy Blending!