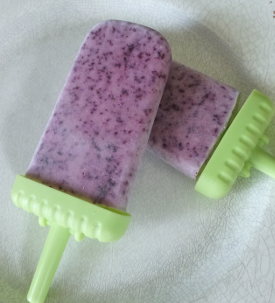 It's been a blazing hot summer here in Michigan. Thankfully, I made plenty of smoothie Popsicles to keep me cool :)
Popsicles were one of my favorite snacks growing up and I see lots of kids eating them today. Unfortunately, the majority of Popsicles are loaded with sugar and far from healthy.
Turning the unhealthy into healthy is what I'm all about. These blueberry yogurt smoothie Popsicles are not only nutritious, but very flavorful and you won't feel guilty eating them or giving them to your children.