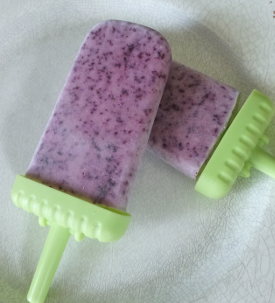 It's been a blazing hot summer here in Michigan. Thankfully, I made plenty of smoothie Popsicles to keep me cool :)
Popsicles were one of my favorite snacks growing up and I see lots of kids eating them today. Unfortunately, the majority of Popsicles are loaded with sugar and far from healthy.
Turning the unhealthy into healthy is what I'm all about. These blueberry yogurt smoothie Popsicles are not only nutritious, but very flavorful and you won't feel guilty eating them or giving them to your children.
When I make smoothie Popsicles I typically just double the amount of each ingredient and make Popsicles with half and drink the other half. Pretty much any smoothie can be frozen into Popsicles. Chocolate, big surprise, are my favorite.
The Popsicle molds (BPA-free) seen in the picture above were purchased from Amazon.com.
The recipe below is super simple. Feel free to use a different berry or a combination of berries and other fruit (see optional add-ons) to create your own unique Popsicles. If you use a flavored yogurt you might not need a sweetener. Enjoy!
Blueberry Yogurt Smoothie Popsicles Recipe
The Ingredients
1 cup yogurt
1 cup blueberries
1/2 tablespoon maple syrup (substitute honey)
The Optional Add-ons
1/2 cup strawberries, raspberries, blackberries, or other berries
1 kiwi
1/2 cup pineapple
1/2 cup mango
1 tablespoon cacao powder
1 tablespoon coconut oil
Show Time
Place all the ingredients into your high-speed blender and blend for around 30-60 seconds. Pour the liquid into Popsicle molds and freeze. Enjoy a couple hours later.
Nutrition Information
Calories: 259
Fat: 8g
Protein: 10g
Carbohydrates: 39g
Fiber: 4g
Sugar: 32g
Vitamin A: 6% RDA
Vitamin C: 26% RDA
Calcium: 32% RDA
Iron: 3% RDA
Check out my Citrus Smoothie Popsicles for another delicious smoothie Popsicle recipe.
I'd love to know if you try these blueberry yogurt smoothie popsicles and how you liked them. Please leave a comment below. Happy Blending!