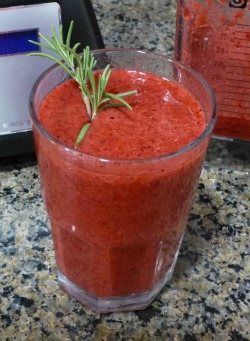 My local CSA had fresh rosemary this week and I couldn't wait to use some in another smoothie, and smell its beautiful aroma :) My first rosemary smoothie was a huge success and oh so delicious!
I've been using rosemary more and more in the kitchen and felt somewhat validated last week while listening to an interview with esteemed herbalist Susun Weed. She mentioned many of rosemary's wonderful qualities, in particular its antioxidant potency. I actually dug up this article by Susan for those interested in her take – Now Remember Rosemary.
Consider rosemary one of my favorite herbs!
Besides being an antioxidant powerhouse, rosemary is known for the following health benefits: