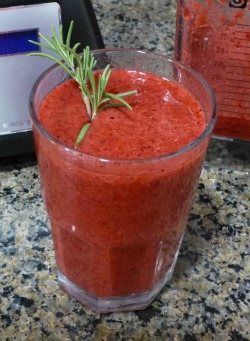 My local CSA had fresh rosemary this week and I couldn't wait to use some in another smoothie, and smell its beautiful aroma :) My first rosemary smoothie was a huge success and oh so delicious!
I've been using rosemary more and more in the kitchen and felt somewhat validated last week while listening to an interview with esteemed herbalist Susun Weed. She mentioned many of rosemary's wonderful qualities, in particular its antioxidant potency. I actually dug up this article by Susan for those interested in her take – Now Remember Rosemary.
Consider rosemary one of my favorite herbs!
Besides being an antioxidant powerhouse, rosemary is known for the following health benefits:
Improved memory and concentration
Energizing and mood enhancing
Anti-Inflammatory
Antibacterial & Antifungal
Digestive aid
Anti-Cancerous
Improved circulation
Muscle pain relief
Immune system booster
Migraine relief
Liver friendly
I've been using fresh rosemary, but have some drying out as I type this for use in future smoothies and culinary adventures. Rosemary is like most herbs, you can add it to just about any smoothie. Play around with it.
This smoothie is a bit smaller than normal and more of a snack than a meal replacement. Although you can beef it up with a banana, additional greens, and whatever else you have on hand. Enjoy!
Raspberry Rosemary Smoothie Recipe
The Ingredients
1 cup water
1 cup frozen raspberries
1/2 cup frozen blueberries or blackberries
1-2 sprigs fresh rosemary, leaves removed and finely chopped
1/2 tablespoon honey to sweeten
3-5 ice cubes (optional)
The Add-ons
1/2 fresh or frozen banana
1 cup spinach, kale, or other leafy green
1 serving of your preferred protein or green superfood powder
1 tablespoon maca, cacao, spirulina, coconut oil, or any other superfood you have on hand
Show Time
Place all of the ingredients into your high-speed blender and blend for around 30-45 seconds or until nice and smooth.
Nutrition Information
Calories: 138
Fat: 1g
Protein: 2g
Carbohydrates: 34g
Fiber: 10g
Sugar: 21g
Vitamin A: 3% RDA
Vitamin C: 66% RDA
Calcium: 4% RDA
Iron: 6% RDA
I'd love to know if you tried this raspberry rosemary smoothie – please do tell in the comments below. Happy Blending!