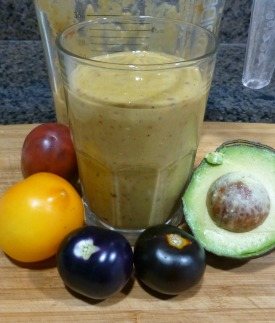 I love guacamole just as much as the next person, but a guacamole smoothie didn't sound that appetizing for whatever reason. Glad I gave it a blend because it turned out great.
This smoothie gave me an outlet for all my beautiful organic heirloom tomatoes, I could only make so much gauc.
This is my first smoothie with tomatoes so I'm going to touch on their health benefits. First, heirloom tomatoes come in many different shapes and sizes and almost always taste better than their conventional counterparts. The better taste is a sign of more nutrition.