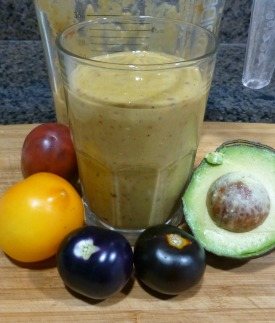 I love guacamole just as much as the next person, but a guacamole smoothie didn't sound that appetizing for whatever reason. Glad I gave it a blend because it turned out great.
This smoothie gave me an outlet for all my beautiful organic heirloom tomatoes, I could only make so much gauc.
This is my first smoothie with tomatoes so I'm going to touch on their health benefits. First, heirloom tomatoes come in many different shapes and sizes and almost always taste better than their conventional counterparts. The better taste is a sign of more nutrition.
Heirloom tomatoes are rich in the carotenoid lycopene, which gives the tomato its bright color and plays a role in the prevention of a number of cancers, including prostate, cervical, breast, lung, and skin. They're also high in vitamins C, great for a number of bodily functions such as supporting your immune system and gobbling up free radicals.
The health benefits don't stop there. Heirloom tomatoes offer cardiovascular protection via their high amounts of potassium and are a good source of vitamin K, required to build strong, healthy bones.
The best way to describe this is runny guacamole. Although, you can adjust the consistency pretty easily by using more or less water. It was quite filling, due to the avocado, which is how I like it. Next time I make this I'll probably add cayenne pepper to spice it up. Enjoy!
Guacamole Green Smoothie Recipe
The Ingredients
1/2 cup water
1 avocado
1/2 cup tomatoes
1/4 cup cilantro

Juice of half a lime

A dash of Celtic sea salt
The Add-ons
A little honey, maple syrup, or stevia to sweeten
1/4 teaspoon garlic powder
1 cup spinach, kale, or other leafy green
1/4 teaspoon cayenne pepper to spice it up
Show Time
Place all the ingredients into your high-speed blender and blend for around 30-45 seconds or until nice and smooth.
Nutrition Information
Calories: 350
Fat: 30g
Protein: 5g
Carbohydrates: 24g
Fiber: 15g
Sugar: 4g
Vitamin C: 78% RDA
Vitamin K: 76% RDA
Folae: 46% RDA
Potassium: 36% RDA
I'd love to know if you tried this guacamole green smoothie – please leave a comment below. Happy Blending!