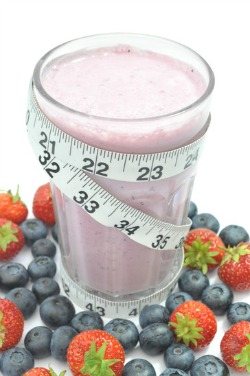 Smoothies are a great tool for weight loss because you control the ingredients. They make perfect vehicles for low-calorie, yet nutrient-laden ingredients that are capable of keeping you full for a long time.
By combining the right ingredients, you can create smoothies that taste great and help you drop pounds. It doesn't take long to learn what to use and how to make the right combinations. Just keep reading and start losing!
Smoothies for Healthy Weight Loss
The reason that smoothies can help you lose weight is that you can get all of your necessary nutrients in one glass without adding in excess calories. When you learn about the ingredients that create a balanced smoothie, you will be able to include a good balance of protein, complex carbohydrates, healthy fats, as well as vitamins and nutrients.
Besides the basics, you can include powerhouse ingredients that up the nutritional value of your smoothie without adding extra calories. You can also include elements that enhance your weight loss by boosting your metabolic rate, giving you more energy, and filling you up for hours.
If you're brand new to smoothies, you'll want to read my how to make a smoothie article to best utilize the information below.
Ingredients for Weight Loss
While many of the traditional ingredients in healthful smoothies support a healthy weight, some are better than others. There are certain things you can put in your smoothie that will boost your weight loss by different means.
Berries. Any kind of berry, strawberry, blueberry, and raspberry for instance, add a ton of flavor to a smoothie without adding very many calories. Additionally, they are high in fiber, which helps to keep you full, and antioxidants for your overall health.
Cayenne pepper. This spice not only adds a kick to your smoothie, it also boosts your weight loss capability. The compound responsible is called capsaicin. Research has shown that adding it to breakfast reduces consumption of fat and carbohydrates later in the day. In other words, consuming a little cayenne pepper will curb your appetite.
Chia seeds. The same little seeds that make hair grow on ceramic animals are a great tool for weight loss. They are packed with fiber and protein to help keep you feeling full and satisfied and they contain numerous healthful nutrients like calcium, antioxidants, and omega-3 fatty acids. They are also known to absorb toxins from your digestive tract.
Greek yogurt. Compared to other styles of yogurt, Greek yogurt is much higher in protein. This means it can fill you up and keep you fuller longer. Stick with plain, though. The flavored varieties usually have a lot of added sugar.
Healthy fats. Healthy fats are vital to your overall health and help keep you satiated for hours. Totally denying fat is not a way to lose weight. You will only feel unsatisfied when you eat. Include fats in your smoothies by adding avocado, coconut oil, or nuts and nut butters. These are high in calories, though, so go easy on them.
Leafy greens. Greens, like kale, spinach, and romaine lettuce, are packed with phytonutrients and low in calories. They are also high in fiber. Make sure to rotate your greens on a regular basis.
Psyllium fiber. Fiber supplements are typically used to regulate bowel movements, but adding ground psyllium husk to your smoothie will have other benefits as well. The fiber will keep you full and will regulate the absorption of fat in your body.
Pulp from fruit. If you have a juicer, you know that in addition to the juice, you end up with a pile of throw-away pulp. This is all of the fiber from the fruits and instead of throwing it out or composting it, you can add it to your smoothies for a natural source of fiber.
Stevia. If the fruit you add to your smoothies is not enough sweetness for you, consider using stevia. This natural, zero-calorie sweetener comes from a plant and is free from the side effects and possible risks of artificial sweeteners.
Tea/water/ice. Many smoothie recipes call for milk or fruit juice to create the right consistency. To avoid the extra calories, substitute them with tea, water, or ice. A fruity, herbal tea is a good substitute for juice. Green tea contains healthful nutrients, including a compound thought to aid in weight loss, and it has a mild flavor. For a consistency more like a shake, use ice.
Ingredients to Avoid
There are plenty of great foods and supplements to put in your smoothies that will give you flavor without excess calories. There are also some pitfalls. Too many people assume that any smoothie is a healthy option, but there are some ingredients that will pack on the calories and should be avoided if you are using smoothies as a weight loss tool.
Canned fruits or vegetables. Fresh produce is always best, but when you can't find what you want, turn to frozen foods before cans. Canned fruits and vegetables often have added preservatives or sweeteners that increase the amount of calories. They have also lost a significant amount of their nutritional value. Fresh and frozen veggies and fruits maintain nutrient content much longer than canned products.
Dairy. Dairy products like milk, ice cream, or frozen yogurt are common ingredients in smoothies, but they are chock full of extra calories. There are exceptions, such as raw milk and plain, Greek yogurt, which is high in protein and low in sugar, but most dairy should be avoided.
Fruit juice. Juice is often high in sugar and calories and low in nutritional value, especially store-bought products. Many contain added sweeteners, and all have lost the fiber of the whole fruit. A limited amount of 100 percent juice is ok to use, but too much will just increase your total calorie intake.
Protein powders. This may seem like a good way to get protein in your diet, but natural sources are a much better choice. Protein powders are good for bulking up and adding weight. For weight loss, stick with vegetables and other healthy sources of protein such as nuts.
Sweeteners. If your smoothie tastes very sweet, you are probably over doing it on the sweetener and potentially consuming too many calories for a weight loss plan. Stevia is a natural, no-calories sweetener that you can use. Other good sweeteners, such as honey and maple syrup should be used in moderation. For the full download on sweeteners, see my article on the best and worst sweeteners.
Too much fruit. Whole, fresh fruits are good for you, and a natural way to add flavor and a little sweetness to your smoothie, but too much can be a problem. A lot of fruit in one smoothie can spike your blood sugar and cause digestive problems.
For more information on the ingredients you want to avoid like the plague, check out my article on what makes a smoothies unhealthy.
An Overall Weight Loss Plan
As you work towards your weight loss goal with tasty smoothies as your tool, keep in mind that the healthy way to lose weight includes more than just dietary changes. Your smoothies, if created thoughtfully, will provide you with many of the nutrients you need including protein, carbohydrates, good fats, and vitamins and minerals. But, don't forget to eat healthful foods in addition to those smoothies. Get plenty of fruits, vegetables, whole grains, and lean proteins at your regular meals.
In addition to a balanced diet, you will also need to get plenty of exercise. Try to get some amount of physical activity every day, even if it is just a short walk. Staying active while also eating right and enjoying healthful and nutritious smoothies are steps you can take that will get you to your goal weight before you know it.
Weight Loss Smoothie Recipes
Here are a couple of ideas for weight loss smoothies to get you started in addition to the majority for the smoothie recipes you'll find on my site:
Berry Banana Smoothie
1 cup water
1 cup fresh or frozen mixed berries
1 banana
2 cups spinach, preferably fresh
1-2 tablespoons chia seeds, optionally soaked in water for 20 minutes first
A little honey, maple syrup, or stevia to sweeten (optional)
Mango Peach Green Tea Smoothie
1 cup green tea
1 mango, peeled and chopped
1 peach, chopped, leave skin on for extra fiber
1 cup spinach
A little honey, maple syrup, or stevia to sweeten (optional)
Greek Yogurt Smoothie
1 cup water
1 fresh or frozen banana
1 cup fresh or frozen blueberries
1 cup of plain, Greek yogurt
4-6 ice cubes (optional, might not need if using frozen banana)
A little honey, maple syrup, or stevia to sweeten (optional)
For each of these smoothie recipes place all of the ingredients into your high-speed blender and blend for about 30-45 seconds or until nice and smooth. As always, feel free to add and subtract ingredients based on what you prefer and have on hand.
Have you lost weight with smoothies? I'd love to hear your thoughts on losing weight with smoothies – please do tell in the comments below.
Happy Blending!