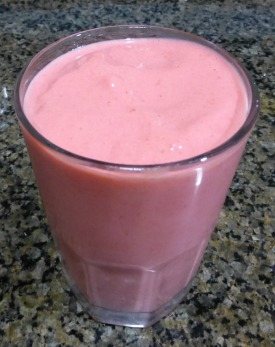 Love strawberries and kefir? Then you'll love this smoothie.
The majority of my recipes call for between 4 and 6 ingredients, and some up to a whopping 15. This recipe is the simplest to date, with only 2 ingredients, both of which should come as no surprise :)
My girlfriend and I recently purchased 13 quarts of strawberries from a local Amish farm. Many were eaten on the drive home, others sliced and dehydrated, and the rest frozen for smoothies. Like most berries, strawberries are rich in a variety of antioxidant and anti-inflammatory phytonutrients and are not too high in sugar.
My second favorite thing to do with raw milk besides drinking it is making kefir. The tangy probiotic rich drink is something I often use in smoothies. It pairs quite well with strawberries.
I cut my strawberries in half before freezing to ease the blending. A few small chunks of frozen strawberry snuck past the powerful blades of my Blendtec, which I kind of like. Enjoy!
Super Strawberry Kefir Smoothie Recipe
The Ingredients
1 cup kefir
1.5 cups frozen strawberries
The Add-ons
1/2 tablespoon cacao powder
1/2 tablespoon coconut oil
1/2 cup fresh or frozen blueberries
1 tablespoon flax seeds, chia seeds, or chia seed gel
Anything else that tickles your fancy
Show Time
Place all the ingredients into your high-speed blender and blend for around 30-60 seconds or until nice and smooth.
Nutrition Information
Calories: 228
Fat: 9g
Protein: 10g
Carbohydrates: 26g
Fiber: 4g
Sugar: 20g
Vitamin A: 10% RDA
Vitamin C: 216% RDA
Calcium: 33% RDA
Iron: 6% RDA
I would love to know if you try this super strawberry kefir smoothie – please leave a comment below. Happy Blending!