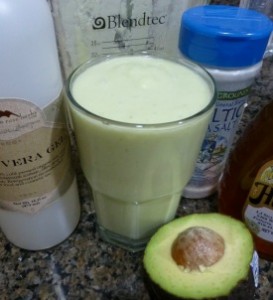 I recently purchased aloe vera gel to use in a couple body butter recipes, but made sure to save a little for smoothies :)
In the past I've procured fresh aloe leaves, filleted, and scraped out the gel for use in smoothies. As it turns out this aloe vera gel is much easier to work with.
For the complete download on the health benefits and awesomeness of aloe vera, click here to view my article. The Reader's Digest version: aloe is replete with vitamins, minerals, and essential amino acids. Its impressive nutrient profile leads to the following health benefits:
Improved digestion
Aids in detoxification
Boosts the immune system
Anti-Inflammatory
Anti-Cancerous
Helps with diabetes
Great for your skin (when consumed internally and applied externally)
Improved cholesterol
Heart friendly
For these reasons aloe vera in a bonafide superfood. The aloe and citrus fruit in this recipe stimulate and facilitate the elimination of toxins, hence the detox smoothie categorization.  You can't go wrong with a nutritious and delicious smoothie that also helps you do a little detoxing.
The picture of this smoothie didn't turn out that well, nor does it convey the almost florescent green color. Anyways, hope you enjoy!
Aloe Vera Lemonade Smoothie Recipe
The Ingredients
1 cup water
1/2 avocado
1 medium aloe vera leaf, filleted (approximately 1/2 cup), or 1/2 cup aloe vera gel
1/2 medium lemon, peeled and deseeded
1/2 medium lime, peeled and deseeded
1 tablespoon coconut oil
A dash of Celtic sea salt
1 tablespoon honey to sweeten
4 – 6 ice cubes (optional)
The Add-ons
1 cup kale, spinach, or other green
1 kiwi, skin removed
1 tablespoon flax or chia seeds
Any other healthy ingredients you have on hand
Show Time
Place all the ingredients into your high-speed blender and blend for around 30-45 seconds or until nice and smooth. If you add coconut oil and don't have a very powerful blender you might want to blend everything except the coconut oil first, then drizzle it on and blend for another 5-10 seconds to avoid clumping.
Nutrition Information
Calories: 359
Fat: 29g
Protein: 3g
Carbohydrates: 32g
Fiber: 8g
Sugar: 18g
Vitamin C: 59% RDA
Vitamin K: 27% RDA
Potassium: 16% RDA
Iron: 14% RDA
I purchased the aloe vera gel from Mountain Rose Herbs. Here's a fantastic Key Lime Whipped Coconut Oil Body Butter Recipe for those interested.
I'd love to know if you try this aloe vera lemonade smoothie – please leave a comment below. Happy Blending!