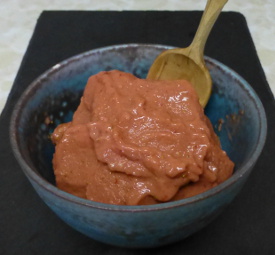 This is my new favorite snack on a hot summer day. Blend frozen strawberries with just enough liquid for a thick, cold, ice cream like consistency. Otherwise known as a bowl of deliciousness.
Strawberry season was fast and furious this year. We loaded up and froze 2 flats worth, which is 16 quarts. They are supposed to last several months, but at the rate I've been making this strawberry ice cream they're not going to last nearly that long.
I've covered the health benefits of strawberries in other recipes. Here's a quick rundown. They are a great source of antioxidants in the form of vitamin C and manganese. Strawberries are also a very good source of dietary fiber, iodine, folate, copper, and potassium. This nutrient profile supports a healthy you.
You can make this ice cream smoothie with two ingredients. However, there are several add-ons listed to enhance the nutrition and flavor. I've been making this ice cream smoothie with slightly different ingredients and each time it has tickled my taste buds.
Big frozen strawberries can be a challenge to blend. Try slicing them in half or quartering before freezing. I also let them soak in my blender with the liquid for 5 minutes if I have time. Blendtec has a special jar for this type of blending. If you have a Vitamix the plunger is a huge help. If you don't have a super powerful blender you may have to use a little more liquid. Your smoothie might not be as thick, but should be just as delicious. Enjoy!
Strawberry Ice Cream Smoothie Recipe
The Ingredients
1/2 cup kefir, raw milk, nut milk of choice, or water
1 cup frozen strawberries
The Optional Add-ons
1/4 teaspoon vanilla extract
1/2 tablespoon cacao powder
1/2 tablespoon coconut oil or ghee
1/3 cup yogurt
1/3 avocado
1 serving protein powder or gelatin
Garnish with bee pollen and/or cacao nibs
Show Time
Place the ingredients into your blender and blend for around 30-45 seconds or until nice and smooth.
Nutrition Information
Calories: 128
Fat: 5g
Protein: 5g
Carbohydrates: 17g
Fiber: 3g
Sugar: 12g
Vitamin A: 6% RDA
Vitamin C: 151% RDA
Calcium: 17% RDA
Iron: 4% RDA
I would love to know if you try this strawberry ice cream smoothie and how you liked it. Please leave a comment below. Happy Blending!