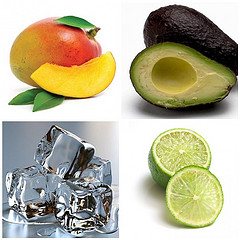 Yes, this smoothie does taste as good as its name would lead you to believe. Avocado, mango, and lime make a divine combination.
Avocados have become one of my favorite smoothie ingredients because they provide that staple smoothie creaminess I crave and love. They are a great source of healthy fats and an average avocado contains about 4 grams of protein. Avocados are also a good source of dietary fiber and high in vitamins K, C, B5, B6, folate, and potassium.
Mangoes are no nutritional slouch. Mangoes are a good source of dietary fiber, vitamins, minerals, and antioxidants. They contain vitamins A, C, E, and K, as well as potassium, phosphorus, iron, and magnesium. Another key health benefit of mangoes are their anti-inflammatory properties. Research has shown mangoes to protect against certain cancers. This "super fruit" can also be used on your skin to help clear up acne and blemishes.
Try making this smoothie with a couple of ice cubes if your mango chunks aren't frozen. Enjoy!
Avocado Mango Lime Smoothie Recipe
The Ingredients
1 cup filtered or spring water
1/2 avocado, peeled and seed removed
1/2 cup fresh or frozen mango chunks
Juice of half a lime
2-4 ice cubes (optional)
The Add-ons
1 tablespoon coconut oil
1/2 fresh or frozen banana
1/2 teaspoon ginger spice
Show Time
Place all of the ingredients into your blender and blend for 30-45 seconds or until the desired consistency is reached.
Nutrition Information
Calories: 216
Fat: 15g
Protein: 3g
Carbohydrates: 23g
Fiber: 8g
Sugar: 12g
Folate: 30% RDA
Vitamin C: 78% RDA
Calcium: 3% RDA
Iron: 4% RDA
If you try this delicious avocado mango lime smoothie please leave a comment below. Happy Blending!