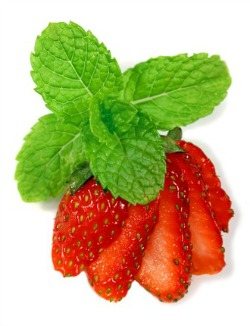 Get your Saint Patrick's Day started properly with this delicious, healthy, and easy-to-make green smoothie. Your body and taste buds will thank you.
Mint is a great addition to green smoothies providing a little extra nutrition while enhancing the flavor. Both fresh and dried mint can be used.
A few of the health benefits attributed to mint include aiding in proper digestion, cleansing, and detoxification, calming effects, antioxidant-rich, anti-fungal, anti-bacterial, and mint help maintain healthy skin.
The aroma and vapors of mint help alleviate nausea, headaches, and respiratory issues, especially those involving congestion. Asthma suffers can find relief with regular use. Whenever you're cooking with mint make sure to take a nice big inhalation :)
Combine mint with the goodness of strawberries, banana, and your favorite green leafy vegetable and you have one healthy smoothie.
Naturally, mint pairs well with chocolate. Hmm, a strawberry mint chocolate green smoothie sure sounds good. There's a nice upgrade to this recipe. Enjoy!
Strawberry Mint Green Smoothie Recipe
The Ingredients
1 cup water
1 fresh or frozen medium banana
1 cup fresh or frozen strawberries
1 cup spinach, kale, or other leafy green
1 tablespoon dried and powdered down mint leaves, or 6-8 fresh mint leaves
A little honey, maple syrup, or stevia to sweeten (optional)
The Add-ons
1 tablespoon flax or chia seeds
An additional cup of the leafy green veggie you chose
1/2 tablespoon coconut oil
1 tablespoon maca
1 serving of your preferred protein and/or green superfood powder
Show Time
Place all of the ingredients into your high-speed blender and blend away for around 30-45 seconds or until nice and smooth.
Nutrition Information
Calories: 158
Fat: 1g
Protein: 3g
Carbohydrates: 39g
Fiber: 7g
Sugar: 22g
Vitamin A: 10% RDA
Vitamin C: 172% RDA
Vitamin K: 186% RDA
Calcium: 7% RDA
Iron: 10% RDA
I'd love to know if you tried and enjoyed this strawberry mint green smoothie – please do tell in the comments below. Happy Blending!
Postscript: If you are reading this on March 18th – consider making the Lemony Coconut Smoothie which is great for hangovers!