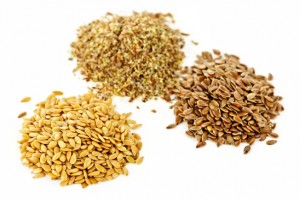 I've listed flax seeds or ground flax seed as an optional or add-on ingredient in several smoothie recipes, but this is the first to feature flax. Let's get right into all the wonderful health benefits attributed to this superfood that records indicate having been cultivated as far back as 3000 BC.
Flax seeds contain manganese, vitamin B1, magnesium, tryptophan, phosphorus, and copper, but these three ingredients are what flax derives its healthy reputation from: omega-3 essential fatty acids, lignans, and fiber. A plethora of studies and research has been done on the importance of omega-3 fats in our diet. They are vital to proper brain function, great for the heart, bones, and reduce inflammation, which is at the root of most disease. The lignans are anti-fungal, anti-viral, and are powerful antioxidants that significantly improve immune function. They also reduce LDL cholesterol. Flax contains a good amount of both soluble and insoluble dietary fiber.
Here's a rundown of the conditions flax seeds are known to help with:
Cancer (Breast, Prostate, Colon)
Cardiovascular Disease
High Blood Pressure
Diabetes
Inflammation
Menopausal Symptoms (Hot Flashes)
High Cholesterol
Constipation
Immune System
Depression
You can purchase either whole or ground flax seeds. Whole flax seeds have a longer self life, but ground flax is generally easier to work with. Keep flax seeds in the fridge and store extra flax in the freezer for maximum shelf life and nutrition.
I prefer golden flax seeds for my smoothies, but the form you use isn't nearly as important as actually adding it into your smoothies so you can reap the health benefits. Note, flax oil is also a good option.
Apple Blueberry Flax Smoothie Recipe
The Ingredients
1 cup water (filtered or spring)
1 medium apple, cored and diced
1/2 cup fresh or frozen blueberries
2 tablespoons flax seeds or ground flax seed
1/2 teaspoon cinnamon
The Add-ons
A little honey, stevia, or maple syrup to sweeten
1/4 cup of your preferred yogurt
1 serving of your preferred protein powder
Show Time
Put the ingredients into your blender and blend for 30-45 seconds or until the desired consistency is reached.
Nutrition Information
Calories: 215
Fat: 6g
Protein: 4g
Carbohydrates: 41g
Fiber: 11g
Sugar: 27g
Vitamin C: 26% RDA
Vitamin K: 24% RDA
Calcium: 7% RDA
Iron: 7% RDA
If you try this smoothie please let me know how you liked it by leaving a comment below. Happy Blending!