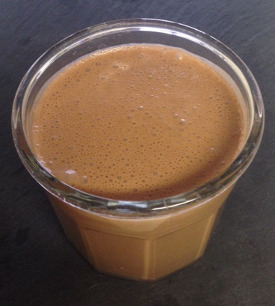 Do you like Snickerdoodle cookies? Then your are going to love this smoothie!
Unlike the cookies, this smoothie is healthy; so you don't have to feel guilty while slurping it down.
Turning the unhealthy into healthy is what we do around here :)
The inspiration for this recipe came from someone who emailed me asking that I create a healthy Snickerdoodle smoothie recipe. I searched the internet for recipes and found they were all quite unhealthy because of suspect ingredients and way too much sugar!
It's unfortunate that so many smoothie recipes are unhealthy as it often gives smoothies as a whole a bad name. Just like with other meal recipes, the ingredients dictate whether healthy or not. When you make smoothies at home and only include healthy ingredients, you control your own smoothie destiny and can be assured the results are healthy.
This smoothie isn't that thick. Simply add 1/2 avocado for a creamier consistency. Enjoy!
Just click the ingredients below to find the products we use!
Snickerdoodle Smoothie Recipe
The Ingredients
The Optional Add-ons
1/2 avocado for more of a pudding consistency
1/2 tablespoon cacao nibs
1 cup spinach, kale, or other leafy green for a green Snickerdoodle
1 serving of your preferred protein powder or gelatin
Show Time
Place all of the ingredients into your blender and blend for around 30-45 seconds or until nice and smooth.
Nutrition Information
Calories: 276
Fat: 15g
Protein: 10g
Carbohydrates: 31g
Fiber: 3g
Sugar: 23g
Vitamin A: 8% RDA
Vitamin C: 1% RDA
Calcium: 32% RDA
Iron: 8% RDA
Please leave a comment below if you try this Snickerdoodle smoothie and let me know how you liked it. Happy Blending!