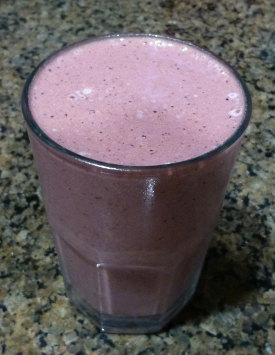 This fully-loaded, energizing, brain boosting, nutritious, and delicious superfood smoothie will ensure you have the best day ever!
As you can tell by the name of this smoothie it's chalk full of healthy ingredients. Almonds, berries, chocolate, spices, and an ingredient making its smoothie debut.
If you've perused more than a couple recipes on my site you know I'm a humungous fan of coconut oil. I consume healthy fats liberally, coconut oil being one of my favorites. For variety and to incorporate more of the other healthy fats into my diet I've been using grass-fed butter in place of coconut oil in some of my smoothies. So far the results have been great. Butter blends well and smoothies with it leave me satiated for hours.
If you can't do butter, ghee is another option that I've been dabbling with as well. I'll spare you the diatribe on the importance of healthy fats in your diet. If you want to know why they're so vital, please read my article on fats:
The Skinny on Fat: Good Fats vs. Bad Fats
Room temperature butter blends best. I made this smoothie with butter fresh out of the fridge and found a few small chunks in my smoothie. I actually kind of like a smoothie that requires a little chewing from fragments of nuts, coconut shreds/flakes, frozen fruit, greens, etc.
While not the most important thing ever, soaking your nuts is advised. Soaking unlocks nutrition and reduces antinutrients. Soaked almonds also blend a little better in my experience.
This smoothie is loaded with nutrition and definitely qualifies as a meal replacement, a tasty one at that. Enjoy!
Chocolate Almond Berry Butter Smoothie Recipe
The Ingredients
1 cup almond milk
1/4 cup fresh or frozen blueberries
1/4 cup fresh or frozen raspberries
1/4 cup almonds (ideally soaked first)
1 tablespoon grass-fed butter
1 tablespoon cacao powder
1/4 teaspoon cinnamon
1/4 teaspoon vanilla powder or extract
1 tablespoon honey to sweeten (substitute maple syrup or stevia)
1 serving of your preferred protein powder (optional – I used One World Whey)
The Add-ons
1/4 cup fresh or frozen strawberries
1/2 tablespoon cacao nibs
1 cup spinach, kale, or other leafy green
Show Time
Place all of the ingredients into your high-speed blender and blend for around 30-45 seconds or until nice and smooth.
Nutrition Information
Calories: 454
Fat: 32g
Protein: 10g
Carbohydrates: 39g
Fiber: 10g
Sugar: 23g
Vitamin A: 18% RDA
Vitamin C: 19% RDA
Calcium: 41% RDA
Iron: 14% RDA
I'd love to know if you try this chocolate almond berry butter smoothie and what you thought. Please leave a comment below. Happy Blending!