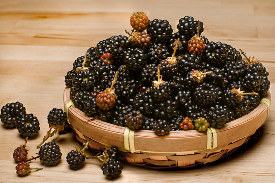 Anytime I can incorporate wild foods into my smoothies I jump at the opportunity.
My girlfriend's sister (thanks, Karen!) was kind enough to pick some blackberries off her property for us. We resisted gobbling them all down at once and reserved a few for this smoothie.
Across the board wild foods are more nutritious than their cultivated counterparts. What allows wild foods to survive and thrive without human intervention is also what makes them more flavorful. Wild foods are more nutrient dense. Who doesn't need more nutrient dense foods in their diet?
Like most berries, blackberries, wild or cultivated, are loaded with health promoting nutrients. Those nutrients provide the following health benefits.
Good for your heart
Support healthy digestion
Improved cognitive functioning
Immune system booster
Antioxidant powerhouse
Anti-cancer properties
Warning: blackberry seeds are big and tough and like to get stuck in your teeth. However, they're very nutritious so either chew or swallow them whole.
This smoothie wasn't very thick and creamy like I usually make them. Add avocado or banana to thicken if you'd like. Enjoy!
Wild Blackberry Smoothie Recipe
The Ingredients
1 cup raw milk or nut milk of choice
1/2 cup blackberries
1/4 cup walnuts
1 teaspoon ghee
1 teaspoon honey
The Optional Add-ons
1/3 avocado
1 cup spinach, kale, or other leafy green
1/2 cup additional berries such as blueberries, strawberries, or raspberries
1/2 tablespoon cacao powder
1 tablespoon chia or flax seeds
1 serving of your preferred protein powder
1 serving gelatin
Show Time
Place all of the ingredients into your blender and blend for around 30-45 seconds or until nice and smooth.
Nutrition Information
Calories: 419
Fat: 31g
Protein: 14g
Carbohydrates: 28g
Fiber: 5g
Sugar: 21g
Vitamin A: 9% RDA
Vitamin C: 26% RDA
Calcium: 35% RDA
Iron: 7% RDA
Please leave a comment below if you try this wild blackberry smoothie and let me know how you liked it. Happy Blending!