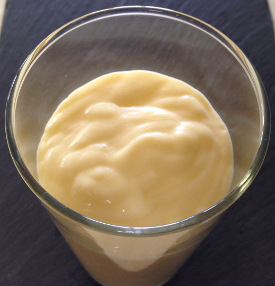 Mango time! Tickle your taste buds with this simple, yet flavorful and nutritious mango yogurt smoothie.
It seemed like it took an eternity for the mangoes I received in a recent Door to Door Organics delivery to ripen. Once they did, I went to town. There were many parties in my mouth including one from this smoothie :)
Not only are mangoes delicious, they impart some nice health benefits as well. Those health benefits include:
Boosts your immune system
Alkalizing effect on the body
Good for your skin (internally and externally)
Promote good eyesight
Contain health promoting antioxidants
Support healthy digestion
Support healthy cholesterol levels
One ripe mango renders about one cup of mango. The recipe below calls for 1/2 cup mango. Feel free to use the full cup. I didn't because the sugar content would have been higher than I like.
There are a bunch of add-ons listed to take this smoothie in several different directions depending on your preferences and what you have on hand. However, I didn't include a single add-on and it was quite tasty. Opt for a plain, whole milk or full fat-yogurt. I used a plain, homemade yogurt. Greek yogurt is also a good option. Enjoy!
Mango Yogurt Smoothie Recipe
The Ingredients
1 cup yogurt
1/2 cup mango
The Optional Add-ons
1/4 avocado
1/2 tablespoon coconut oil or ghee
1/2 cup blueberries, strawberries, raspberries, or mixed berries
1 cup spinach, kale, or other leafy green
1 serving of your preferred protein powder
1/2 tablespoon cacao powder
1 tablespoon chia or flax seeds
A little honey, maple syrup, or stevia to sweeten
Show Time
Place all of the ingredients into your blender and blend for around 30-45 seconds or until nice and smooth.
Nutrition Information
Calories: 199
Fat: 8g
Protein: 9g
Carbohydrates: 24g
Fiber: 1g
Sugar: 23g
Vitamin A: 23% RDA
Vitamin C: 52% RDA
Calcium: 31% RDA
Iron: 1% RDA
I'd love to know if you try this mango yogurt smoothie and how you liked it. Please leave a comment below. Happy Blending!