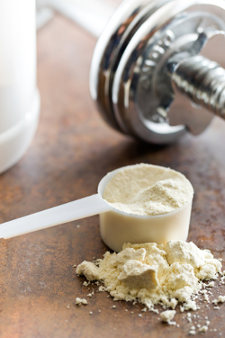 Looking to increase your protein intake? Try this healthy whey protein smoothie that's both delicious and nutritious.
My recent workouts have included heavier lifting and thus I feel the need to add more protein into my diet. One easy way to achieve that is by adding a few scoops of whey protein powder.
This smoothie features a new whey protein supplement that I'm really excited about because of how pure and clean it is. There's an abundance of protein powders on the market and only a handful that are viable and not full of harmful fillers; so finding a good one is always a plus.
The protein powder I'm excited about is Whey Pure – Undenatured Contaminant Free New Zealand Whey Protein. It's perhaps the cleanest whey protein on the market. It blends great in smoothies and provides a rich source of amino acids. Whey Pure has been proven in clinical trials to stimulate the immune system, promote the development of lean body mass, and promote intestinal health. For more information on Whey Pure or to purchase some for yourself, click here.
If you're wondering, I cycle on and off various protein powders. If you're not into protein powders you can still create a delicious and nutritious smoothie without it.
The recipe below is the bare-bones version. You can take this smoothie in several different directions depending on the add-ons that call to you. I typically add avocado to my protein smoothies for additional fat and a thicker consistency. I also usually add cacao because I love chocolate :) If you're using a flavored whey protein that may direct which add-ons you use. Enjoy!
Whey Protein Smoothie Recipe
The Ingredients
1 cup kefir, raw milk, or nut milk of your choice
1 serving of your preferred whey protein
1/2 tablespoon coconut oil or ghee
1/2 teaspoon cinnamon
A dash of sea salt
A little honey, maple syrup, or stevia to sweeten (optional)
The Optional Add-ons
1/4 to 1/2 avocado
1/2 cup blueberries, strawberries, raspberries, or mixed berries
1 cup spinach, kale, or other leafy green
1/3 cup yogurt (reduce liquid if including yogurt)
1/2 tablespoon cacao powder
1 tablespoon nut butter
1 tablespoon chia or flax seeds
Anything else healthy you have on hand
Show Time
Place all of the ingredients into your blender and blend for around 30-45 seconds or until nice and smooth.
Nutrition Information
Calories: 302
Fat: 17g
Protein: 24g
Carbohydrates: 11g
Fiber: 1g
Sugar: 10g
Vitamin A: 11% RDA
Vitamin C: 4% RDA
Calcium: 36% RDA
Iron: 6% RDA
I'd love to know if you try this whey protein smoothie and how you customized it. Please leave a comment below. Happy Blending!