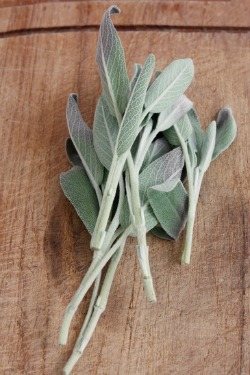 After consuming this smoothie I couldn't stop kicking myself for not using sage in a smoothie before now.
The sweet savory flavor of sage, and its myriad health promoting properties, make it a superb smoothie ingredient.
My adventures of incorporating more and more herbs and spices into my smoothies has proven quite successful. I encourage you to play with the various herbs and spices as well.
Here are a few of sage's better known health benefits:
Anti-inflammatory properties
Potent antioxidant
Improved cognitive function (memory and concentration)
Cleansing and purification properties
Rich in Vitamin K
While researching sage I uncovered this cool little nugget: the International Herb Association awarded sage the title of "Herb of the Year" in 2001!
Below you'll find a very basic sage and banana smoothie recipe. I encourage you to incorporate a few of the add-ons and create your own unique version of this smoothie.
I added frozen blueberries, spinach, and maca to my creamy custom creation. Enjoy!
Savory Sage Banana Smoothie Recipe
The Ingredients
1 cup milk of your choice (I used raw milk)
1 fresh or frozen medium banana
2-4 fresh sage leaves, roughly chopped
1/4 teaspoon cinnamon
A little honey, maple syrup, or stevia to sweeten (optional)
2-4 ice cubes (optional)
The Add-ons
1 cup spinach, kale, or other green leafy vegetable
1/2 cup frozen blueberries
1/2 cup frozen mango chunks
1 serving of your preferred protein supplement or green superfood powder
Anything else, healthy of course, that sounds good to you :)
Show Time
Put the ingredients into your high speed blender and blend for around 30-45 seconds or until your desired consistency is reached.
Nutrition Information
Calories: 270
Fat: 10g
Protein: 10g
Carbohydrates: 40g
Fiber: 4g
Sugar: 26g
Vitamin A: 9% RDA
Vitamin C: 18% RDA
Calcium: 33% RDA
Iron: 4% RDA
If you make your own version of this savory sage banana smoothie please tell me all about it in comments below. Happy Blending!