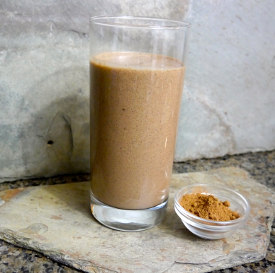 This chocolatey coconut smoothie is sure to tickle your taste buds and bring a big smile to your face :)
This isn't your run-of-the-mill coconut smoothie recipe. It features a favorite choice food of mine – a young (Thai) coconut.
Recently I've been picking up one young coconut a week to blend into a special smoothie on Saturday mornings. That is if I can pour the coconut water into my blender before my girlfriend and I gulp it down.