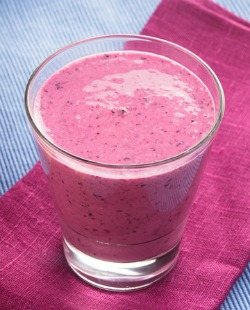 Celebrate this national holiday with a festive and healthy red, white, and blue smoothie.
For those of you who don't live in the United States, make this smoothie because it's nutritious and delicious :)
One thing I always notice at holiday gatherings is a smattering of unhealthy food. Don't get me wrong, indulging once in a while keeps you sane, and the 90/10 diet, or eating healthy 90% of the time resonates with me. However, some holiday food spreads are just plain ridiculous.
Why not bring something healthy to the table? This fruit smoothie is perfect as a tasty snack or dessert. You can even freeze it and serve as ice cream.
The berries in this smoothie provide plenty of antioxidant power, vitamins, and minerals. The Greek yogurt offers a decent amount of protein, and coconut provides healthy fat. All in all, this is one healthy smoothie you can feel good drinking or giving to your children.
The recipe calls for 1 cup of strawberries. Feel free to substitute with raspberries or go 50/50 on the sweet red berries. Enjoy!
4th of July Smoothie Recipe
The Ingredients
1 cup milk (almond, coconut, hemp, raw)
1 cup fresh or frozen strawberries
1 cup fresh or frozen blueberries
1/4 cup Greek yogurt
2 tablespoons coconut flakes or shreds
1 teaspoon coconut oil
1/2 teaspoon vanilla powder or extract
A little honey, maple syrup, or stevia to sweeten (optional)
Optional Add-ons
1/2 tablespoon cacao powder and/or nibs
1 tablespoon flax or chia seeds
1 serving of your preferred protein powder
Anything else healthy that sounds good to you :)
Show Time
Place all of the colorful ingredients into your high-speed blender and blend for around 30-45 seconds or until nice and smooth.
Nutrition Information
Calories: 357
Fat: 21g
Protein: 6g
Carbohydrates: 41g
Fiber: 9g
Sugar: 26g
Vitamin A: 16% RDA
Vitamin C: 173% RDA
Calcium: 42% RDA
Iron: 10% RDA
Please leave a comment below if you try this delicious 4th of July smoothie. Happy Blending & Happy 4th of July!