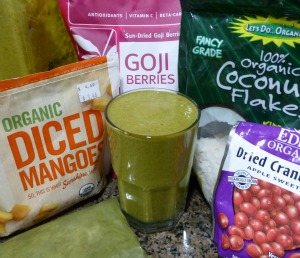 This is one of those throw in everything but the kitchen sink superfood smoothies.
Smoothies can be like a box of chocolates, you never know what you're going to get when you fill your blender with an array of superfoods. That's not entirely true, you know you're going to get an extremely healthy concoction that's typically quite tasty.
This recipe is the brainchild of one of my readers, Ian, who has proven he's quite masterful at the art of crafting superfood smoothies. Ian was kind enough to pass along this recipe for me to post on my site. He mentioned that there was nothing scientific about his effort. That's an important statement I want to expound on.
When I first started making smoothies I was insanely meticulous about following the recipe and measuring out every ingredient. It took me several months to realize every smoothie recipe in existence is merely a blueprint for whatever I fancied. This is one of the concepts I want people to keep in mind.
This site contains hundreds of smoothie recipes. Make them as is, or create your own healthy masterpieces. The latter is what I encourage. And please don't fret over precisely measuring each ingredient. Honestly, the only time I measure is for the recipes I post on my site.
I usually touch on health benefits of each smoothie, but one look at the ingredients and you know this smoothie is uber healthy :) Enjoy!
Superfood Energizer Smoothie Recipe
The Ingredients
1 cup coconut water
1/2 avocado
1/2 cup tropical fruit (pineapple, mango, papaya or a combo)
1/2 cup spinach
1/2 cup kale
1/3 cup Greek yogurt
2 tablespoons goji berries
2 tablespoons dried cranberries
1 tablespoon coconut flakes
1 teaspoon coconut oil
1 teaspoon maca
1 teaspoon wheatgrass powder
A little honey, maple syrup, or stevia to sweeten (optional)
The Add-ons
No add-ons necessary :) If there's an ingredient or two you'd like to include, go for it.
Show Time
Place all of the ingredients into your high-speed blender and blend for around 30-45 seconds or until nice and smooth. If you don't have a very powerful blender and your coconut oil is in liquid form, you might want to blend everything except the coconut oil first, then drizzle it on and blend for another 5-10 seconds to avoid clumping.
Nutrition Information
Calories: 534
Fat: 31g
Protein: 14g
Carbohydrates: 62g
Fiber: 16g
Sugar: 38g
Vitamin A: 92% RDA
Vitamin C: 282% RDA
Vitamin K: 414% RDA
Calcium: 31% RDA
Iron: 21% RDA
I'd love to know if you tried this superfood energizer smoothie and what you thought of it – please do tell in the comments below. Happy Blending!