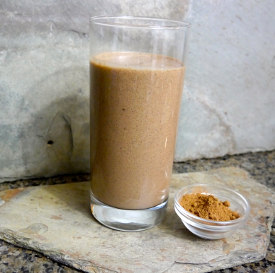 This chocolatey coconut smoothie is sure to tickle your taste buds and bring a big smile to your face :)
This isn't your run-of-the-mill coconut smoothie recipe. It features a favorite choice food of mine – a young (Thai) coconut.
Recently I've been picking up one young coconut a week to blend into a special smoothie on Saturday mornings. That is if I can pour the coconut water into my blender before my girlfriend and I gulp it down.
Young coconut water is extremely hydrating and full of electrolytes. The meat is also quite delicious and nutritious. Combine with chocolate and you have a match made in health heaven.
For more information on young coconuts and their health benefits and how to open, please see this recipe:
Young coconuts may not be accessible to you. You can substitute the water and meat from a regular coconut or use coconut flakes/shreds.
This is a pretty basic recipe. Feel free to add additional ingredients to jazz it up. Enjoy!
Chocolate Coconut Smoothie Recipe
The Ingredients
1 cup coconut water (or whatever your young coconut bears)
1/2 cup coconut meat (or whatever your young coconut bears)
1/3 avocado
1/2 cup raspberries (substitute berry of choice)
1 tablespoon cacao powder
The Add-ons
1/2 teaspoon vanilla extract or powder
1/2 tablespoon cacao nibs
1 cup baby spinach or kale
1 tablespoon goji berries, spirulina, bee pollen, or any other superfood
Show Time
Place all of the ingredients into your blender and blend for around 30-45 seconds or until nice and smooth.
Nutrition Information
Calories: 349
Fat: 25g
Protein: 6g
Carbohydrates: 32g
Fiber: 16g
Sugar: 12g
Vitamin A: 2% RDA
Vitamin C: 50% RDA
Calcium: 9% RDA
Iron: 17% RDA
I'd love to know if you try this chocolate coconut smoothie and how you liked it. Please leave a comment below. Happy Blending!