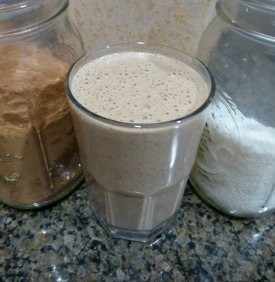 It's time to unleash the elixirs! This is the first in what will be many elixir recipes.
If you don't always feel like a smoothie during the cold winter months, you may gravitate towards elixirs like I have. These warm, frothy beverages deliver just as much nutrition as a smoothie, but feel more appropriate when it's cold out.
Slight nuances differentiate an elixir from a smoothie. Elixirs are often thought of as medicinal drinks because they're typically made with a curative tea. You'll want to choose a tea for your elixirs based on a particular health concern you'd like to address.
For example, if you're dealing with a fungal infection such as candida, Pau d'arco, a South American herb and potent anti-fungal is an ideal choice. There are a number of teas for boosting your immune system, which I seek out when everyone around me is coughing and sneezing. For a list of my favorite herbal teas and more information on using tea to improve your health or address a health challenge, see my wonderful health benefits of tea article.
The rest of the possible elixir ingredients should be familiar from making smoothies. Although everything you can add into your smoothie isn't elixir material. Green veggies and fruit are not normally used. Elixirs are generally comprised of superfoods, herbs, and spices.
My method of elixir making looks like this. Brew a big pot of tea on Sunday for the upcoming week. You can brew tea each morning, but brewing in advance is a time saver and allows me to make an elixir in less than 10 minutes, including clean up. Reheat tea on the stove top, add all of the ingredients into my blender, then pour in the hot tea, blend, and enjoy. It's that easy. Note, my Blendtec's jar is made of plastic; so I never use boiling or extremely hot water. Please be mindful of that if you're dealing with plastic.
This recipe calls for chia seeds or chia seed gel. I encourage you to use chia seed gel, it lends a nice creamy consistency. To make, mix 1 part chia seed to 1 part water in a small container and let sit for about 10 minutes until it gels. It keeps in the fridge for a couple of months.
Are you a coffee drinker? Use that instead of tea or go half and half.
For a more substantial and filling drink, add an additional tablespoon of coconut oil and/or protein.
If you enjoy warm chocolatey drinks, you've got to try this elixir. Enjoy!
Chocolate Coconut Elixir Recipe
The Ingredients
1 cup of warm to hot tea
1 heaping tablespoon chia seeds or chia seed gel
1 tablespoon coconut oil
1 tablespoon coconut shreds or flakes
1/2 tablespoon cacao powder
A dash of high quality salt
1/2 tablespoon raw honey
The Add-ons
1/4 teaspoon cayenne pepper if you like it hot
1/2 tablespoon maca
1 tablespoon gelatin
1 serving of your preferred chocolate or vanilla protein powder
Show Time
Place all the ingredients into your high-speed blender followed by the tea and blend for around 30-45 seconds or until nice and frothy.
Nutrition Information
Calories: 301
Fat: 24g
Protein: 4g
Carbohydrates: 23g
Fiber: 7g
Sugar: 8g
Vitamin C: 20% RDA
Calcium: 10% RDA
Iron: 18% RDA
I'd love to know your experience with elixirs, or if you try this chocolate coconut elixir – please leave a comment below. Happy Blending!