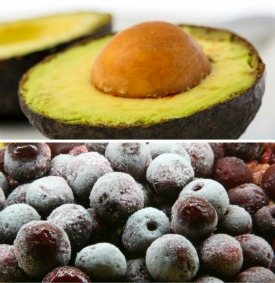 The one ingredient I can't seem to make a smoothie without lately is avocado. I guess I'm addicted to the alligator pears and their rich creamy goodness. Thankfully they're loaded with nutrition :)
About 1 and 1/2 cups liquid and half of a large or one whole avocado is a great foundation for a smoothie. From there, toss in the ingredients you have on hand or whatever sounds good and you're golden.
For this smoothie I grabbed the frozen cherries out of my freezer and blended up a real treat. Tasty and healthy.
Avocados are considered a superfood by some, and for good reason. They are rich in dietary fiber, healthy fats, carotenoids, folate, potassium, B vitamins, and vitamins C, E, and K.
These nutrients contribute to a healthy heart, reduction of inflammation, protection against liver damage, anti-cancer benefits, healthy eyes, blood sugar regulation, and healthy cholesterol levels.
The fats in avocados also help your body absorb and assimilate fat soluble nutrients from other foods when eaten in conjunction. Another reason I love adding avocado to smoothies and salads.
I provided plenty of add-ons for you take this smoothie in the direction of your choosing, or just make as is, delicious and healthy either way. Enjoy!
Avocado Cherry Smoothie Recipe
The Ingredients
1 cup milk (raw, almond, coconut, hemp)
1/2 avocado, peeled and seed removed
3/4 cup frozen pitted cherries
1/2 teaspoon vanilla extract or powder
A pinch of sea salt
The Add-ons
A little honey, maple syrup, or stevia to further sweeten
1 tablespoon cacao powder and/or nibs
1 cup spinach or kale to green
1/2 cup fresh or frozen blueberries
1 tablespoon coconut oil
1 serving of your preferred protein powder
Anything else healthy that sounds good to you :)
Show Time
Place all of the ingredients into your high-speed blender and blend for around 30-45 seconds or until nice and smooth.
Nutrition Information
Calories: 426
Fat: 23g
Protein: 11g
Carbohydrates: 46g
Fiber: 9g
Sugar: 34g
Vitamin A: 14% RDA
Vitamin C: 27% RDA
Calcium: 31% RDA
Iron: 10% RDA
Please leave a comment below if you try this delicious avocado cherry smoothie. Happy Blending!