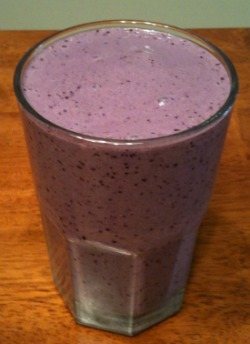 Is there any better smoothie ingredient than berries? Blackberries, blueberries, raspberries, strawberries, goji berries, mulberries…oh how I love thee!
Not only do the various berries taste great, they pack a hefty nutritional punch. Unlike higher sugar content fruit, you really can't over do it with low glycemic berries, which are universally accepted by pretty much every type of diet out there.
Blackberries and blueberries are great for your health in the following ways:
Antioxidant Assault: The dark pigment (anthocyanins) that gives berries their color is loaded with antioxidants that benefit your entire body.
Brain Berries: Blueberries have been shown to improve cognition. Odds are blackberries contain some of the same brain supporting compounds.
Cardiovascular Health: Help strengthen blood vessels and support healthy cholesterol levels.
Improve Eyesight: Prevent age-related degeneration and support eye health by reducing oxidative stress.
Anti-Cancer: Help prevent many types of cancer mainly through antioxidant free radical quenching.
Blood Sugar: Berries are low glycemic and therefore won't spike blood sugar.
Nutrient Dense: Loaded with important vitamins and minerals.
For more information on the health benefits of each: blueberry health benefits and blackberry health benefits.
I usually purchase my berries in bulk, preferably from local and organic sources, and freeze them for use in my smoothies for several months. Because of their thin skin, you want to stick to organic berries whenever possible.
This smoothie makes for a healthy desert. Maybe decorate with cacao nibs and/or bee pollen. Enjoy!
Black and Blue Smoothie Recipe
The Ingredients
1 cup almond milk
1/2 frozen banana (frozen banana chunks)
1/2 cup fresh or frozen blackberries
1/2 cup fresh or frozen blueberries
1 tablespoon coconut oil
1/2 teaspoon cinnamon
A dash of sea salt
4-6 ice cubes (optional, for extra creaminess and an ice cream like texture, but only if your blender can handle it :))
The Add-ons
1/2 cup additional berries (raspberries, strawberries, goji berries, mulberries)
1 tablespoon cacao nibs and/or powder
1 tablespoon bee pollen
1 serving of your preferred protein powder
Show Time
Place all of the ingredients into your blender and blend for around 30-45 seconds or until your desired consistency is achieved.
Nutrition Information
Calories: 289
Fat: 18g
Protein: 3g
Carbohydrates: 34g
Fiber: 9g
Sugar: 19g
Vitamin A: 11% RDA
Vitamin C: 46% RDA
Calcium: 34% RDA
Iron: 11% RDA
Let me know what you think of this decadent black and blue smoothie by leaving a comment below. Happy Blending!