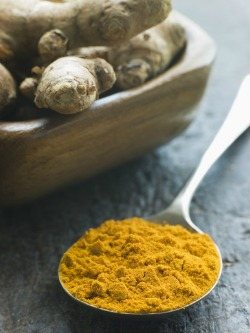 This smoothie exemplifies one of my favorite aspects of smoothies. Creating an absolutely delicious drink containing a number of healthy ingredients that you wouldn't normally consume individually, unless you like to gag :)
Turmeric is a "super spice" in my book, with health benefits that are vast and various. While I've been cooking with it for years, I just recently started adding it into my smoothies, with much success.
Here's why "hiding" a little turmeric in your smoothies is such a great idea.
Potent Anti-Inflammatory – At the root of most health issues you'll find inflammation, whose reduction goes along way in alleviating symptoms.
Aids Weight Loss – By helping increase the flow of bile, an important factor in digesting dietary fat. Also helps the liver detoxify.
Anti-Cancerous Properties – Turmeric helps prevent and destroy cancer cells.
Powerful Antioxidant – Potent free-radical quencher.
Anti-Bacterial, Anti-Viral, and Anti-Fungal – Perfect when colds or the flu strike.
Skin Health – Promotes healthy skin and can reduce skin problems.
Helps With – Turmeric has been implicated in helping relieve and stave off: Alzheimer's disease, arthritis, asthma, cancer, diabetes, and depression.
Curcumin is the active ingredient in turmeric responsible for much of its health promoting properties, in case you were curious.
Turmeric has a slightly bitter taste. By blending it with sweet fruit and/or a sweetener and not using a ton, you won't even notice it in your smoothie. I used turmeric from a spice bottle, but fresh turmeric will work just as well. Enjoy!
Tropical Turmeric Smoothie Recipe
The Ingredients
1 cup almond or coconut milk
1/2 cup frozen mango chunks
1 fresh or frozen medium banana
1 tablespoon coconut oil
1/2 teaspoon turmeric
1/2 teaspoon cinnamon
1/2 teaspoon ginger
A dash of sea salt
A little honey, maple syrup, or stevia to sweeten (optional)
The Add-ons
1 tablespoon chia seed or chia seed gel
1/4 avocado
1/2 cup fresh or frozen pineapple chunks
1 tablespoon coconut shreds/flakes
1/2 tablespoon maca
Show Time
Place all the ingredients into your high-speed blender and blend for around 30-45 seconds or until nice and smooth. If you don't have a very powerful blender and your coconut oil is in liquid form, you might want to blend everything except the coconut oil first, then drizzle it on and blend for another 5-10 seconds to avoid clumping.
Nutrition Information
Calories: 323
Fat: 18g
Protein: 3g
Carbohydrates: 44g
Fiber: 6g
Sugar: 27g
Vitamin A: 13% RDA
Vitamin C: 67% RDA
Calcium: 33% RDA
Iron: 14% RDA
Let me know what you think of this tasty tropical turmeric smoothie by leaving a comment below. Happy Blending!