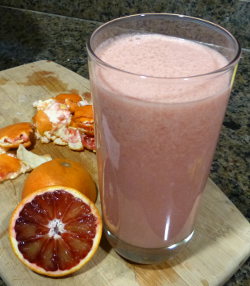 This is one decidedly delicious smoothie that's super easy to make with only two ingredients.
It's my version of an Orange Julius.
When blood oranges are in season I load up and enjoy a fair amount of them blended into smoothies. I find their crimson, almost blood colored flesh both beautiful and mouth-watering.
Here are the top blood orange nutrients and their health benefits:
Anthocyanins: give blood oranges their excellent red color (also give blueberries their dark pigmentation). Anthocyanins are antioxidant powerhouses, have anti-inflammatory properties, and provide protection against cancer.
Vitamin C: also a powerful antioxidant, vitamin C plays a role in a number of bodily functions such as wound healing, collagen production, and boosting the immune system.
Folic Acid (vitamin B9): good for your heart and protects against certain cancers.
I purchase blood oranges directly from growers in the U.S. via Local Harvest.
Combine the health benefits of blood oranges with the probiotic punch of kefir and you have one healthy smoothie. This is more of a snack than a meal replacement. Incorporate some of the add-ons or your favorite ingredients to make a meal out of it. Enjoy!
Blood Orange Kefir Smoothie Recipe
The Ingredients
1 cup kefir (substitute nut milk or raw milk)
2 small to medium blood oranges, peeled (substitute regular oranges)
The Add-ons
1/2 teaspoon vanilla extract or powder
1/2 tablespoon cacao powder
1/2 tablespoon coconut oil
1/2 avocado
1/2 cup raspberries, strawberries, blueberries, blackberries, or any other berry
Show Time
Place all of the ingredients into your blender and blend for around 30-45 seconds or until nice and smooth.
Nutrition Information
Calories: 264
Fat: 10g
Protein: 10g
Carbohydrates: 32g
Fiber: 4g
Sugar: 28g
Vitamin A: 23% RDA
Vitamin C: 169% RDA
Calcium: 35% RDA
Iron: 4% RDA
I'd love to know if you try this blood orange kefir smoothie and how you liked it. Please leave a comment below. Happy Blending!