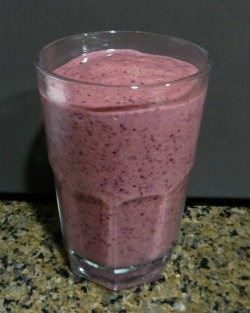 Just when I thought I'd exhausted all the possible smoothie ingredients along came one I somehow overlooked, applesauce :)
My friend and I recently harvested a couple hundred apples and I decided to make applesauce to preserve most of my share. I found this awesome crock pot applesauce (no sugar added) recipe that I highly recommend. Turning apples into delicious applesauce was a piece of cake.
Now what to do with my bounty of applesauce. Freeze some, eat some, use in pancake batter, and naturally add to my smoothies.
It's also blueberry season in Michigan and my freezer is jam-packed with organic blueberries. Blueberries, homemade applesauce, and a few other choice ingredients make for one delicious and highly nutritious smoothie.
Here's a quick rundown of the health benefits this smoothie imparts. Apples and blueberries are high in antioxidants, great for your cardiovascular system, help regulate blood sugar, support good eye health, and provide anti-cancer benefits. Blueberries, aka brain-berries, are also great for cognition. Apples have been shown to help those suffering from asthma. Both of these fruits contain an array of vitamins and minerals and offer additional health benefits, but those are the most recognized.
As you can imagine apples and applesauce are interchangeable smoothie ingredients. I hope you enjoy this smoothie!
Blueberry Applesauce Smoothie Recipe
The Ingredients
1/2 cup spring or filtered water
1 cup fresh or frozen blueberries
1 cup applesauce
1 tablespoon chia seeds or chia seed gel
1 tablespoon coconut oil
A dash of cinnamon
A dash of Celtic sea salt
Optional Add-ons
A little honey, maple syrup, or stevia to further sweeten
1 cup spinach, kale, or other leafy green for a green smoothie
1/3 cup Greek yogurt
1 serving of your preferred protein powder
Anything else healthy that sounds good to you :)
Show Time
Place all of the ingredients into your high-speed blender and blend for around 30-45 seconds or until nice and smooth.
Nutrition Information
Calories: 389
Fat: 19g
Protein: 4g
Carbohydrates: 58g
Fiber: 12g
Sugar: 39g
Vitamin C: 67% RDA
Vitamin K: 38% RDA
Calcium: 13% RDA
Iron: 17% RDA
I'd love to know if you tried this blueberry applesauce smoothie – please do tell in the comments below. Happy Blending!