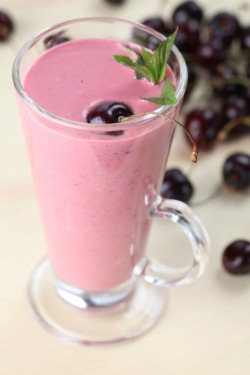 There's something special about cherry based smoothies and this is no exception. It's ridiculously delicious, think ice cream, yet super nutritious.
Yes, healthy food can and often does taste as good or better than its unhealthy counterpart.
In my world cherries are a cherished delicacy. They're only available at the farmers' market for a month or two each year, and I hardly ever buy frozen fruit from the grocery store anymore. However, on a recent trip to Whole Foods I purchased a couple bags of frozen cherries with smoothies in mind.
Cherries are not only delicious, they pack a lot of nutrition. Think antioxidants galore, nutrients such as vitamin C, potassium, magnesium, beta carotene (vitamin A), iron, and folate. They're also a good source of dietary fiber, and are known for supporting a healthy heart and brain. Two fairly important organs :)
Cherries are also renowned for their anti-inflammatory properties, and are particularly effective at helping those suffering from gout or arthritis. Cherry based drinks can help with inflammation after intense exercise or physical exertion. Inflammation is at the root of many health issues. Getting enough anti-inflammatory foods like cherries into your diet can really make a difference.
Cherries are just another "super fruit" that you should consume on semi-regular basis.
Warning: this smoothie tastes similar to Ben and Jerry's Cherry Garcia ice cream.
I almost added dessert to the name of this smoothie recipe because it tastes so good. Although I don't want to deter anyone from making this for breakfast or as a meal replacement. Enjoy :)
Cherry Vanilla Smoothie Recipe
The Ingredients
1/2 cup water
1 cup frozen pitted cherries
1/2 cup Greek yogurt (full fat)
1/2 teaspoon vanilla extract or powder
The Add-ons
1 tablespoon flax seeds, chia seeds or chia seed gel
1/2 cup frozen blueberries
1 cup spinach or kale
1 serving vanilla protein powder
Show Time
Place ingredients into your high speed blender and blend for around 30-45 seconds or until your desired consistency is reached.
Nutrition Information
Calories: 294
Fat: 12g
Protein: 6g
Carbohydrates: 38g
Fiber: 3g
Sugar: 31g
Vitamin A: 16% RDA
Vitamin C: 14% RDA
Calcium: 19% RDA
Iron: 3% RDA
Please leave a comment below and share your thoughts on this Cherry Vanilla smoothie. Happy Blending!