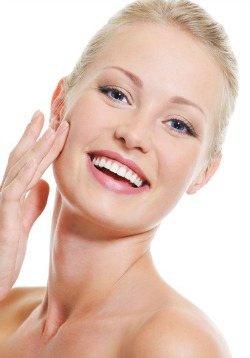 One of the many benefits people experience when consuming healthy smoothies on a regular basis is clear, supple, glowing skin.
The secret to beautiful skin is how healthy you are on the inside, not what you apply externally. Although external lotions, creams, salves, and such that aren't full of toxic tagalongs can be very helpful to your skin.
Your skin really is a reflection of how healthy you are on the inside. If your major organs are functioning properly, your blood is clean, your digestion is good, and your body's natural detoxification channels are working correctly, most likely you have beautiful skin.
On the flip side, if your liver and kidneys are taxed and unable to process toxins, or your digestion and elimination are backed up, your body will look for alternate ways to "push" toxins out, and often times that's via your skin.
Enter healthy smoothies, which provide your body with the nutrition it needs to thrive in a form that's easy to assimilate and digest. This smoothie was designed with your skin in mind, but in reality, every healthy smoothie recipe on my site will improve your health and skin.
The main ingredients in this smoothie are aloe vera, avocado, kiwi, blueberries, and coconut oil. Combined they provide your body with a wealth of vitamins and minerals, antioxidants to clear your complexion, hydration for supple skin, and healthy skin supporting fats.
I thought I'd mention that fasting often helps clear up skin problems. A modified fast of smoothies for breakfast and lunch is a more practical fasting option for most people. If you give it a try, let me know how it works out.
When filleting the aloe vera for this smoothie I encourage you to rub a little gel on your face or area of your body with a skin issue. Enjoy!
The Beautiful Skin Smoothie Recipe
The Ingredients
1 cup water
1 small aloe vera leaf, filleted (about 1/3 cup fresh aloe) (substitute aloe gel or juice)
1/3 avocado
1 kiwi, skin removed
1/2 cup fresh or frozen blueberries
1/2 tablespoon coconut oil
A pinch of a high quality salt such as Celtic sea salt
1 tablespoon honey to sweeten (substitute maple syrup or stevia)
The Add-ons
1/2 tablespoon cacao powder
1/2 cup dandelion greens
1 serving vanilla protein powder
Show Time
Place all the ingredients into your high speed blender and blend for around 30-45 seconds or until your desired consistency is reached. If you don't have a very powerful blender and your coconut oil is in liquid form, you might want to blend everything except the coconut oil first, then drizzle it on and blend for another 5-10 seconds to avoid clumping.
Nutrition Information
Calories: 310
Fat: 17g
Protein: 2g
Carbohydrates: 43g
Fiber: 8g
Sugar: 30g
Vitamin A: 1% RDA
Vitamin C: 130% RDA
Vitamin K: 70% RDA
Calcium: 4% RDA
Iron: 9% RDA
Please leave a comment below and share your thoughts on The Beautiful Skin smoothie. Happy Blending!