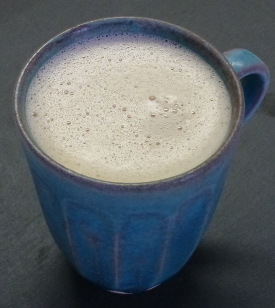 I'm back with another rich, frothy, chocolatey, peanut buttery elixir :)
What would I do without these warm drinks when the temps are cold and the snow is flying?
This recipe is similar to some of my other elixir recipes except for one little twist – the addition of peanut butter. The peanut butter adds a little body and provides a nice dose of protein.
Here are a few benefits of including peanut butter in your elixirs (and smoothies):
As already mentioned a good source of protein
Good source of healthy fats
Helps you lose weight (keeps you feeling full and less likely to reach for unhealthy snacks)
Heart friendly
Rich in fiber
High in potassium and a good source of magnesium and vitamin E
Any nut butter can be used in place of peanut butter. The other nut butters have similar nutritional profiles. I used green tea. Enjoy!
Chocolate Peanut Butter Elixir Recipe
The Ingredients
1 cup of warm to hot tea
2 tablespoons peanut butter
1/2 tablespoon coconut oil
1/2 tablespoon grass-fed butter or ghee
1 tablespoon cacao powder
1/4 teaspoon cinnamon
1/2 tablespoon honey to sweeten
The Optional Add-ons
1 tablespoon chia or flax seeds
1 tablespoon cashews or walnuts
1/2 tablespoon maca
1 tablespoon gelatin or 1 serving protein powder
1 tablespoon colostrum powder
Show Time
Place all the ingredients into your high-speed blender followed by the tea and blend for around 30-45 seconds or until nice and frothy.
Nutrition Information
Calories: 358
Fat: 30g
Protein: 9g
Carbohydrates: 19g
Fiber: 4g
Sugar: 9g
Vitamin A: 4% RDA
Vitamin C: 0% RDA
Calcium: 3% RDA
Iron: 8% RDA
I'd love to know if you try this chocolate peanut butter elixir and how you liked it. Please leave a comment below. Happy Blending!