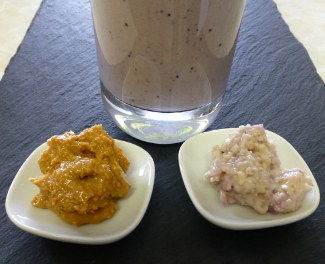 If you like smoothies, oatmeal, and warm things in the winter then you're going to love this smoothie.
It's a full-body, creamy, delicious, nutritious, great way to start your day!
I usually turn to elixirs in the winter because cold smoothies just aren't that appealing. I've been experimenting with warm smoothies lately and this one hit the spot.
To achieve the warmth, I used freshly cooked oatmeal right from the stove top and warmed up the milk. I also added the blueberries to the oatmeal while cooking. The thick consistency of this smoothie helped it retain the warmth for about 20 minutes. It was too thick to guzzle down.
I highly recommend that you soak your oatmeal before cooking. Please see my Fruity Oatmeal Smoothie for soaking instructions. It's not much work and definitely worth it.
This is a well-rounded, meal replacement smoothie that's ideal for breakfast.
I used raw milk in my version of this smoothie. That along with the peanut butter and blueberries provided enough sweetness for my palate. You can sweeten with one of the recommended sweeteners if you prefer. Enjoy!
Peanut Butter Oatmeal Smoothie Recipe
The Ingredients
1/2 cup raw milk or nut milk of choice
1/2 cup rolled oats (soaked and cooked)
1 heaping tablespoon peanut butter
1/4 cup blueberries
1/2 teaspoon cinnamon
1/4 teaspoon vanilla extract or powder
A little honey, maple syrup, or stevia to sweeten (optional)
The Optional Add-ons
1/4 teaspoon nutmeg
1 tablespoon flax or chia seeds
1/2 tablespoon cacao powder
1 tablespoon gelatin or preferred protein powder
Anything else healthy you have on hand
Show Time
Place all of the ingredients into your blender and blend for around 30-45 seconds or until nice and smooth.
Nutrition Information
Calories: 355
Fat: 16g
Protein: 15g
Carbohydrates: 42g
Fiber: 7g
Sugar: 11g
Vitamin A: 3% RDA
Vitamin C: 6% RDA
Calcium: 17% RDA
Iron: 3% RDA
I'd love to know if you try this warm peanut butter oatmeal smoothie and how you liked it. Please leave a comment below. Happy Blending!