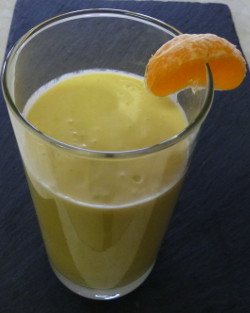 What do you do with a tangerine, lime, and yogurt?
Blend into a delicious and nutritious smoothie, of course.
Besides being tasty little dudes, tangerines offer some nice health benefits such as being high in potassium, vitamin A, and vitamin C (think antioxidants). They're also a good source of dietary fiber, which improves digestion and promotes regular bowel movements, are good for your skin and hair, and the flavonoids in tangerines provide anticancer properties.
Limes offer similar health benefits. They're a good source of vitamin C and potassium, aid digestion, are good for your skin (both internal consumption and when applied topically), and contain compounds (limonoids) that fight against certain cancers.
The yogurt rounds out this recipes with some healthy fat and protein and provides that signature smoothie creaminess.
The recipe below calls for a tangerine. Feel free to substitute an orange, mandarin, or tangelo. Lemon can also be used in place of a lime. I made this smoothie with ingredients I had on hand and encourage you to do the same.
You probably won't need to use a sweetener if you use a flavored yogurt. Enjoy!
Citrus Yogurt Smoothie Recipe
The Ingredients
1 cup yogurt (whole milk preferred)
1 medium tangerine, peeled
1/2 medium lime, peeled
1/4 teaspoon vanilla extract
A little honey, maple syrup, or stevia to sweeten (optional)
The Optional Add-ons
1/4 avocado
1/2 lemon, peeled
1/2 cup fresh or frozen berries
Anything else healthy you have on hand
Show Time
Place all of the ingredients into your blender and blend for around 30-45 seconds or until nice and smooth.
Nutrition Information
Calories: 250
Fat: 10g
Protein: 10g
Carbohydrates: 32g
Fiber: 6g
Sugar: 24g
Vitamin A: 19% RDA
Vitamin C: 50% RDA
Calcium: 53% RDA
Iron: 2% RDA
I'd love to know if you try this citrus yogurt smoothie and how you liked it. Please leave a comment below. Happy Blending!