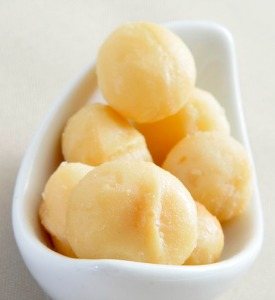 This is one of those smoothies that tastes as good as the name would suggest :)
Crunchy, creamy, sweet tasting macadamia nuts are one of my favorite snacks, but it wasn't until today that I tried them in a smoothie. My mistake.
Besides being quite delicious, macadamias nuts are loaded with health supporting nutrients, vitamins, minerals, protein, and healthy fats.
They are a good source of many minerals including manganese, iron, magnesium, phosphorus, copper and the vitamin thiamin. They're also high in dietary fiber.
Some people shy away from macadamias because they're high in fat, but that's precisely why I love them. About 80% of their fat content is monounsaturated or "good" fat. It lowers your LDL ("bad") cholesterol and raises you HDL ("good") cholesterol.
Macadamia nuts also contain the all important omega-3 fatty acids, vital for your brain, nervous system, and fighting inflammation among other things.
My Blendtec pulverized the macadamia nuts, but lower end, less powerful blenders might leave you with a few chunks. No biggie, just something to keep in mind. Enjoy!
Coconut Macadamia Nut Smoothie Recipe
The Ingredients
1 cup coconut water (or just plain water)
1/4 of an avocado
1/2 fresh or frozen banana
6 macadamia nuts
1 tablespoon coconut flakes or shreds
1/2 teaspoon cinnamon
A little honey, stevia, or maple syrup to sweeten (optional)
The Add-ons
1 tablespoon cacao powder or nibs (chocolate pairs well with coconut and macadamias)
1/2 cup fresh or frozen blueberries
1/2 tablespoon coconut oil
1 serving of your preferred protein powder
Show Time
Place all of these lovely ingredients into your high-speed blender and blend for around 30-45 seconds or until nice and smooth.
Nutrition Information
Calories: 326
Fat: 23g
Protein: 5g
Carbohydrates: 31g
Fiber: 10g
Sugar: 15g
Vitamin C: 27% RDA
Calcium: 9% RDA
Iron: 11% RDA
I'd love to know if you tried this coconut macadamia nut smoothie – please tell in the comments below. Happy Blending!