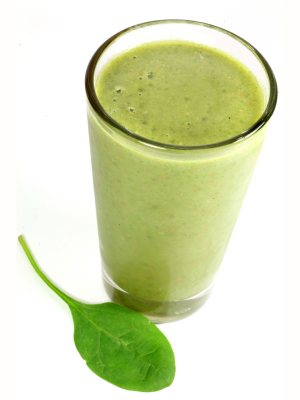 This is my go to green superfood smoothie when I get cravings for chlorophyll. I like to mix my smoothies up to ensure I get a good healthy balance of vitamins and minerals (and keep things fun and interesting), but truth be told, I'd have no problem guzzling this guy every day.
Starting my day with plenty of greens puts me in a good mood, with plenty of energy, feeling good about myself! The combination of ingredients in this smoothie provide an abundance of goodness. Let's delve into the myriad health benefits.
Bananas are high in vitamins C and B6, manganese, potassium, and fiber, and are good for the cardiovascular system, eyes, and bones, among other things.
Blueberries are rich in vitamins C and K, manganese, and fiber, and help improve cognitive function (brain berries), offer cardiovascular support, are good for your eyes, and are antioxidant powerhouses.
The greens, spinach and kale, provide a plethora of vitamins, minerals, and phytonutrients (to many to list). Think antioxidants, anti-cancer, anti-inflammatory, strong bones, and cardiovascular support.
What puts this smoothie into the superfood category is the inclusion of spirulina (or chlorella) powder. Both are extremely nutrient dense, complete protein sources, antioxidant rich, excellent detoxification agents, and help the body deal with and overcome a bevy of ailments. I'll be posting an in depth article on each in the future.
Rounding things out is a little cinnamon, which has been found to improve circulation, cognitive function, and digestion, stabilize blood sugar, lower bad cholesterol, and is anti-fungal and anti-bacterial.
All these wonderfully healthy ingredients are complimented by each other and ensure you get a full dose of vitamins and nutrients…in a delicious form. Pretty cool how that works – blending all this good stuff into a superfood smoothie :) Enjoy!
Green Superfood Smoothie Recipe
The Ingredients
1 cup water
1 fresh or frozen medium banana
1/2 cup frozen blueberries
1 cup baby spinach
1/2 cup kale, stems removed
1 teaspoon coconut oil
1 teaspoon spirulina or chlorella powder
1/4 teaspoon cinnamon
A little honey, maple syrup, or stevia to sweeten (optional)
The Add-ons
1/2 tablespoon maca
1 tablespoon chia seeds or chia seed gel
1 serving of your favorite green superfood powder
Show Time
Place the ingredients into your blender and blend on high until desired consistency is reached, usually around for 30-45 seconds.
Nutrition Information
Calories: 222
Fat: 6g
Protein: 6g
Carbohydrates: 42g
Fiber: 7g
Sugar: 23g
Vitamin A: 246% RDA
Vitamin C: 110% RDA
Vitamin K: 589% RDA
Calcium: 10% RDA
Iron: 49% RDA
Please leave a comment below if you try this tasty green superfood smoothie. Happy Blending!