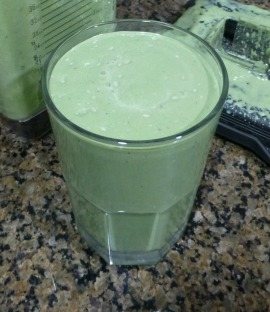 If you're looking for a nutritious and delicious green smoothie designed to support your body's natural detoxification efforts, look no further.
This smoothie contains several of the usual detox suspects along with two potent green superfoods: spirulina and chlorella. This combination of ingredients results in what is perhaps the most potent detox smoothie I've posted to date.
What's so special about spirulina and chlorella and how do they help you detox?
Spirulina is best known as the "protein queen" because it's about 70% pure protein. In addition to being a complete protein, this single-celled organism is loaded with essential vitamins and minerals that support a healthy you. Through the process of chelation, spirulina has been shown to help remove heavy metals from the body. Spirulina has been used to remove lead and arsenic from contaminated water and can absorb and remove these metals from the body.
Chlorella is a nutritional powerhouse primarily because of its chlorophyll content. The chlorophyll helps the body process more oxygen, promotes tissue growth and repair, and helps cleanse the blood. Like spirulina, chlorella assists heavy metals detoxification by binding to and ushering these bad guys out of the body.
These two green superfoods provide a powerful one-two detox punch.
For more information on the ways in which lemon juice and kale help your body detox, see my Lemon-Lime-Kale Detox Green Smoothie.
If you're brand new to spirulina and chlorella I recommend starting with a 1/2 teaspoon of each. You can work your way up to 1 heaping tablespoon of each if you're as ambitious as me :) Enjoy!
Mean Green Detox Smoothie Recipe
The Ingredients
1 cup water
Juice of 1/2 lemon
1 fresh or medium frozen banana
1 cup kale, stems removed (even better, dandelion greens)
1 teaspoon spirulina
1 teaspoon chlorella
A dash of Celtic sea salt or other high quality salt
1/2 tablespoon honey
3-5 ice cubes (optional)
The Add-ons
1/4 cup cilantro
1/4 cup arugula
Juice of 1/2 lime
1/2 cup fresh or frozen pineapple or mango chunks
Show Time
Place all the ingredients into your high-speed blender and blend for around 30-60 seconds or until nice and smooth.
Nutrition Information
Calories: 187
Fat: 1g
Protein: 7g
Carbohydrates: 43g
Fiber: 6g
Sugar: 25g
Vitamin A: 258% RDA
Vitamin C: 167% RDA
Calcium: 12% RDA
Iron: 58% RDA
I would love to know if you try this mean green detox smoothie – please leave a comment below. Happy Blending!