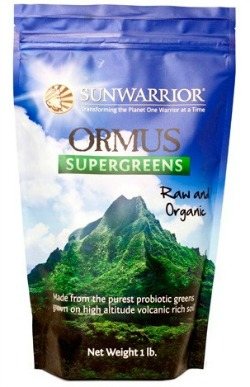 This green smoothie features one of my favorite green superfood powders, Ormus Supergreens.
I recommend green superfood powders for one or more of the following reasons: getting your daily allowance of veggies is a challenge, traditional green smoothies (blended green leafy vegetables) aren't your thing, you want to incorporate an extremely nutrient dense green superfood into your diet.
For a lot of people using green superfood powders is sort of graduation to the next level of smoothie making, but in reality they can be a great starter ingredient if you want your smoothies loaded with nutrition, without much effort, right off the bat.
Why am I so high on Sun Warrior's Ormus Supergreens? The product is formulated from organic grasses grown in an ancient sea bed located in a volcanic region of Arizona and Utah. The mineral-rich soil these greens are grown in is loaded with platinum, silver, gold and ormus trace minerals.
The ingredients include probiotic cultured greens, alfalfa, barely, wheat, and oat grass, and powdered down spinach, parsley, peppermint and stevia. The peppermint and stevia result in a minty taste, with a hint of sweetness. I like the flavor it imbues my smoothies with – it's definitely not something you need to "hide" the taste of.
Ormus Supergreens are certified organic, vegan, raw, and non-GMO. Here's cool little video on Ormus Supergreens:
I tend to view superfood powders, green or not, as a replacement for a daily multivitamin. If you're interested in learning more about or purchasing Ormus Supergreens, click here. Other top notch green superfood powders I endorse are Boku and Vitamineral Green.
Adding a green superfood supplement to your already healthy green smoothie results in a truly "super" green smoothie. If you don't have a green superfood powder on hand, simply omit from the recipe. Enjoy!
Ormus Supergreens Smoothie Recipe
The Ingredients
1 cup almond milk
1 fresh or frozen medium banana
1 cup spinach
1/2 cup frozen blueberries
1 tablespoon Sun Warrior Ormus Supergreens
1/2 tablespoon coconut oil
1/4 teaspoon cinnamon
1/4 teaspoon vanilla powder or extract
A dash of Himalayan salt or sea salt
A little honey, maple syrup, or stevia to sweeten (optional)
The Add-ons
1 tablespoon cacao nibs or powder
1 tablespoon flax or chia seeds
1 scoop Sun Warrior protein
A little fresh mint for extra mintiness
Show Time
Load the ingredients into your high-speed blender and blend for around 30-45 seconds or until your desired consistency is reached.
Nutrition Information
Calories: 274
Fat: 11g
Protein: 5g
Carbohydrates: 44g
Fiber: 9g
Sugar: 24g
Vitamin A: 20% RDA
Vitamin C: 43% RDA
Vitamin K: 200% RDA
Calcium: 35% RDA
Iron: 14% RDA
Let me know what you think of this Ormus Supergreens smoothie by leaving a comment below. Happy Blending!