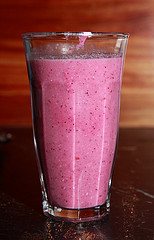 I have to be honest, raspberries are my favorite food. The field behind my house growing up was full of raspberry bushes that I harvested until my little fingers were stained red. Naturally, raspberries are one of my favorite smoothie ingredients.
Lucky for me, and others who love these delectable berries, they offer a lot in the way of health promoting properties.
Raspberries are especially high in vitamin C and manganese, as well as being a good source of dietary fiber. The antioxidants unique to raspberries provide powerful protection, and their antioxidant activity is about 50% higher than strawberries. The phytonutrients (plant-nutrients) in raspberries also provide antimicrobial and anticarcinogenic protection. The dietary supplement, ellagic acid, found in many health stores, is usually made from red raspberries.
Studies have shown that freezing raspberries doesn't significantly affect their antioxidant activity, which is the best news ever!
Some people don't care for raspberry seeds in their smoothie. If that's you, try blending the liquid base of your smoothie and just the raspberries first to grind those little guys up. Alternately, a high powered blender such as a Vitamix or Blendtec will reduce the seeds to a powder.
Time to rock out with this raspberry smoothie!
Rockin' Raspberry Smoothie Recipe
The Ingredients
1 cup water
1 cup fresh or frozen raspberries
1/2 cup fresh or frozen berries (blueberries, strawberries, blackberries, mixed berries, etc)
1 medium banana
A little honey, stevia, or maple syrup to sweeten (optional)
The Add-ons
1 serving of your favorite protein powder
1/2 tablespoon coconut oil
1/2 tablespoon cacao powder or nibs
1/4 cup goji berries
Show Time
Place all the ingredients into your blender and blend for around 30-45 seconds or until desired consistency is reached.
Nutrition Information
Calories: 204
Fat: 1g
Protein: 3g
Carbohydrates: 50g
Fiber: 13g
Sugar: 25g
Vitamin C: 81% RDA
Vitamin K: 13% RDA
Calcium: 7% RDA
Iron: 8% RDA
As always, comments are welcomed and encouraged. Happy Blending!