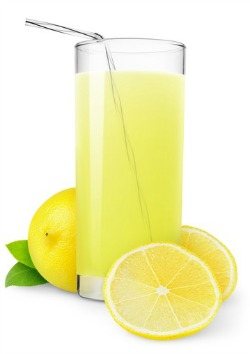 This is perhaps the easiest and most refreshing fresh juice recipe ever! Simply juice a couple of apples and a lemon and you're left with a delicious treat.
Lemonade is most appreciated on a hot summer day. Add a few ice cubes to your fresh juice, or pour into your blender, add ice, and blend until you have a cool, slushy beverage.
Here are a few reasons why you'd want to drink this besides that fact it tastes great.
Apple Juice Health Benefits
Antioxidant rich
Liver and kidney cleanser
Good for digestion and toxin removal
High in vitamin C
Heart healthy
Can offer relief from asthma
Drink your apple a day
Lemon Juice Health Benefits
Antioxidant and anti-cancer properties
Rich in vitamin C
Promotes weight loss
Boosts immune system
Good for digestion
Blood purifier
Stress reducer
For more cool information on lemons, see 15 Hidden Health Secrets of Lemons.
The proportions in the this recipe render a nice tall glass of juice. Adjust for more or less awesomeness. Enjoy!
Sugarless Lemonade Juice Recipe
The Ingredients
3 large apples
1 lemon
1 small piece ginger root (optional)
Show Time
Run all the ingredients through your juicer and mix well (I give my mason jar a good shake) after juicing if needed.
Let me know if your try this delicious sugarless lemonade fresh juice by leaving a comment below. Happy Juicing!