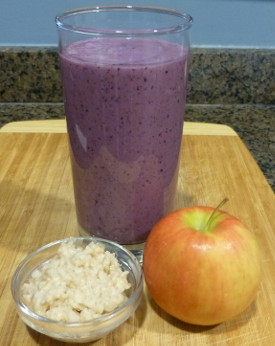 My first oatmeal smoothie has arrived and it's a tasty one! It's also quite nutritious and perfect for breakfast.
I'm a creature of habit and for a long time was content eating oatmeal with butter and occasionally a splash of cinnamon.  After my recent experiments blending oatmeal with fruit and other goodies that habit has changed.
A quick, and important word, about preparing oatmeal for maximum digestion and nutrient assimilation before we get to this delicious recipe.
Many people have issues digesting grains. One of the main reasons for this is a lack of preparation. There are three ways people have properly prepared grains for centuries to make them more digestible: sprouting, fermenting, and soaking. The latter is the preferred method for oatmeal.
By soaking oatmeal in water with a little acid such as lemon juice, whey, apple cider vinegar, or yogurt the oats will become much more digestible. This is the first step in traditionally preparing oatmeal. After soaking you want to cook briefly. Here's a step by step for properly preparing oatmeal:
Soak 1 cup rolled oats in 1 cup water and 2 tablespoons acid (lemon juice, liquid whey, apple cider vinegar, or yogurt) for about 8 hours. Soaking overnight is very convenient.
Add another cup of water and 1/2 teaspoon sea salt to soaked oats, stir, heat to a low simmer, and cook for 5 to 10 minutes.
Consume with liberal amounts of butter and cream. Or toss into your next smoothie and take your oatmeal to a new level of flavor and nutrition.
To avoid having to soak oats every night I'll make 2 or 3 cups at a time and refrigerate for use over the next week or two.
An apple and blueberries are what make this smoothie fruity. Feel free to substitute any fruit you have available or if you make this smoothie often mix it up. Enjoy!
Fruity Oatmeal Smoothie Recipe
The Ingredients
1/2 cup raw milk or nut milk of choice
1/2 cup rolled oats (soaked and cooked)
1 apple, cored
1/2 cup blueberries
1/2 tablespoon grass-fed butter
1/2 teaspoon cinnamon
1 teaspoon honey (substitute maple syrup or stevia)
The Add-ons
1/4 teaspoon nutmeg
1/4 teaspoon vanilla extract or powder
1/2 cup strawberries, raspberries, blackberries, or any other berry
Additional 1/2 tablespoon grass-fed butter
Show Time
Place all of the ingredients into your blender and blend for around 30-45 seconds or until nice and smooth.
Nutrition Information
Calories: 441
Fat: 13g
Protein: 12g
Carbohydrates: 76g
Fiber: 11g
Sugar: 39g
Vitamin A: 9% RDA
Vitamin C: 26% RDA
Calcium: 18% RDA
Iron: 3% RDA
I'd love to know if you try this fruity oatmeal smoothie and how you liked it. Please leave a comment below. Happy Blending!