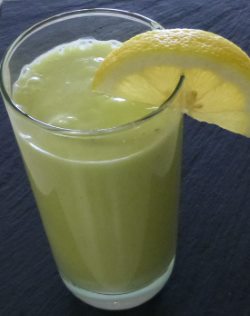 There's nothing quite like a glass of ice-cold lemonade on a hot summer day. Except maybe this citrus smoothie, which is both refreshing and filling.
Starting your day with a little lemon juice and warm water is a proven health strategy. It wakes up your digestive system, flushes toxins, and is hydrating. To change things up and get more lemony goodness (pulp and pith are loaded with nutrition) you can blend the whole thing.
I've been on a serious lemon kick the past month adding either half or a whole lemon into most of my smoothies. I find lemons go particularly well in chocolate smoothies.
I've also found blending lemons is a little less work than squeezing out the juice and there's less to compost.
Here are a few of the top lemon and lime health benefits:
Boost the immune system
Antioxidant powerhouse
Excellent source of vitamin C
Anti-cancer properties
Support healthy digestion
Alkalizing for the body
Protect against Rheumatoid arthritis
This smoothie was a little strong on the lemon taste the first two sips – then it really started tasting good. If you're sensitive to the taste of lemons or don't want an overpowering lemon tasting smoothie simply use less lemon.
This is a good smoothie to drink slowly, chew (for optimal digestion), and savor.
This recipe is pretty basic. There's a bunch of add-ons to boost the nutrition and alter the taste to better suite your preferences. Berries and cacao are at the top of my list to level-up this smoothie. Add ice to chill. Enjoy!
Lemon Lime Avocado Smoothie Recipe
The Ingredients
1 cup water (try coconut water for extra yumminess)
1/2 avocado
1 lemon, peeled
1 lime, peeled
1/2 tablespoon coconut oil
A dash of sea salt
1 tablespoon honey to sweeten
4 – 6 ice cubes (optional)
The Optional Add-ons
1 tablespoon cacao powder for a chocolate twist
1/2 cup fresh or frozen berries of choice
1 tablespoon peanut butter or other nut butter for more protein
1 cup spinach, kale, or other leafy green veggie
1 tablespoon coconut shreds
1 tablespoon bee pollen, goji berries, maca, or other superfood
Show Time
Place all of the ingredients into your blender and blend for around 30-45 seconds or until nice and smooth.
Nutrition Information
Calories: 315
Fat: 22g
Protein: 3g
Carbohydrates: 37g
Fiber: 10g
Sugar: 19g
Vitamin A: 4% RDA
Vitamin C: 96% RDA
Calcium: 5% RDA
Iron: 11% RDA
I'd love to know if you try this lemon lime avocado smoothie and what you thought. Please leave a comment below. Happy Blending!