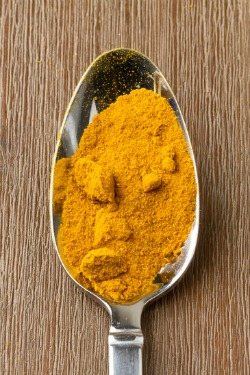 Get all the wonderful health benefits of turmeric, in particular its potent antioxidant and anti-inflammatory properties, by incorporating it into this delicious and easy to make smoothie.
Turmeric has been used in Indian Ayurvedic and Chinese medicine for centuries because of its superior health promoting properties. In the health circles I hang out in I feel like this "super spice" is being talked about more and more, primarily because of its superior anti-inflammatory action.
With inflammation at the root of so many illness such as arthritis, it's important to include anti-inflammatories into your diet. With turmeric you get much more than a reducer of inflammation though.
Here's a quick rundown of turmeric's other health benefits.
Aids in metabolism and weight management
Natural pain reliever
Helps detoxify the liver
Natural antiseptic & antibacterial agent
Cleanses the blood & promotes healthy skin
Promotes good digestion & healthy gut bacteria
Supports healthy blood glucose levels
Anti-cancerous
Used in Chinese Medicine as a treatment for depression
Try adding turmeric to other dishes as well. I've been sprinkling it on my scrambled eggs lately with a little black pepper. Black pepper and turmeric work synergistically to enhance each others health benefits. I've yet to try black pepper in a smoothie though.
Turmeric can also be used topically to treat skin irritations, but be forewarned, your skin will be stained yellow.
In reality you can add a dash or two of turmeric to any smoothie without any noticeable difference in taste. I like to add turmeric to my post-workout smoothies to help with inflammation and lactic acid buildup, and ultimately recover faster. Enjoy!
Tasty Turmeric Smoothie Recipe
The Ingredients
1 cup water
1/2 ripe avocado
1/2 cup fresh or frozen blueberries (substitute any other berry)
1/2 tablespoon coconut oil
1/2 teaspoon turmeric
1/2 teaspoon ginger
1/2 tablespoon honey (substitute maple syrup or stevia)
The Add-ons
1 tablespoon flax or chia seeds
1 cup spinach, kale, or other leafy green
1/2 tablespoon cacao powder or nibs
1 serving of your preferred protein or green superfood powder
Show Time
Place all of the ingredients into your high-speed blender and blend away for around 30-45 seconds or until nice and smooth.
Nutrition Information
Calories: 298
Fat: 22g
Protein: 3g
Carbohydrates: 29g
Fiber: 9g
Sugar: 16g
Vitamin A: 4% RDA
Vitamin C: 29% RDA
Calcium: 2% RDA
Iron: 9% RDA
I'd love to know if you tried and enjoyed this tasty turmeric smoothie – please do tell in the comments below. Happy Blending!