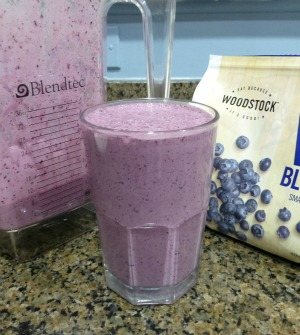 Kefir makes for a creamy, probiotic rich drink that when combined with blueberries renders one ultra-healthy and delicious smoothie!
Including fermented food and drink into your diet is vital for optimal health. Fermentation increases the nutrients, enzymes, and beneficial bacteria (probiotics) of food.
Poor gut health is linked to numerous ailments. Keep your piping healthy by regularly consuming fermented food and drink such as kefir.
A traditional fermented beverage, kefir is rich in the "good" bacteria that live in your digestive tract. These friendly flora are responsible for digesting your food, helping you assimilate nutrients, and play a critical role in the health and effectiveness of your immune system. Their importance cannot be overstated.
If you're new to fermentation, kefir is great place to start. I make my own kefir at home with both raw cow and goat milk. It's the best! Store bought kefir is good, but not nearly as potent or healthful as making it yourself.
For those interested in making your own, it's easy and inexpensive. Find someone with kefir grains to spare (ask around at farmers' market, health food store, co-op, etc) or purchase online (I got mine from the appropriately named kefir lady for $20) and you're off. My grains are still going strong after two years. Ideally, you'll want to use raw milk for kefir making, but store bought organic will do, just know the health benefits won't be nearly as great.
For the vegans out there, I haven't forgotten about you. Young Thai coconut water kefir is an excellent alternative to milk kefir.
This recipe is pretty basic and ripe for multiple add-ons and tweaks in the direction you desire. Enjoy!
Blueberry Kefir Smoothie Recipe
The Ingredients
1 cup kefir
1/2 fresh or frozen medium banana
1/2 cup frozen blueberries
1/2 teaspoon cinnamon
A little honey, maple syrup, or stevia to sweeten (optional)
The Add-ons
1 teaspoon coconut oil
1 tablespoon flax seeds, chia seeds, or chia seed gel
1/2 tablespoon maca
1/2 tablespoon cacao
1 serving of your preferred protein and/or green superfood powder
Show Time
Place all of the ingredients into your high-speed blender and blend for about 30-45 seconds or until nice and smooth.
Nutrition Information
Calories: 257
Fat: 9g
Protein: 9g
Carbohydrates: 35g
Fiber: 4g
Sugar: 24g
Vitamin A: 13% RDA
Vitamin C: 25% RDA
Calcium: 31% RDA
Iron: 3% RDA
I'd love to know if you tried and enjoyed this blueberry kefir smoothie – please let me know in the comments below. Happy Blending!